The racing tradition continues in
the Spiering family
Carl, Lisa, and Monica Spiering will all compete in
IHRA MOPAR Nationals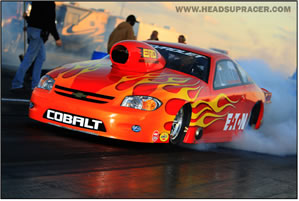 GRAND BEND, ONTARIO (July 16, 2009) – Tradition is an important part of family life, along with passing those traditions to the next generation.
Although still in their teens, Lisa and Monica Spiering have grown up around race tracks, and have always been at the races while father Carl Spiering progressed his way from street-based cars to racing in the popular Pro Modified class.
But during the past two years, Carl has spent more time with his daughters, nurturing them into the world of drag racing as he stepped back from competing himself to teach and mentor.
While they are not seasoned racers like their father, Lisa, now 18, is competing in the Top Dragster class, while 15-year old Monica is running in the Junior Dragster 790 class.
And for this year, Spiering, who won the IHRA Rocky Mountain Nationals in 2008, the IHRA ACDelco Canadian Nationals in 2005, and the IHRA Torco Race Fuels Pro Modified Shootout in 2005 with his Pro Modified, he has entered the Top Sportsman arena with a new Chevy Cobalt.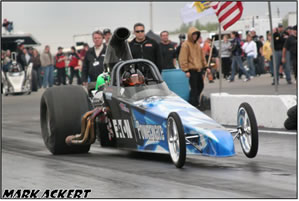 For this weekend at the 10th Annual IHRA MOPAR Canadian Nationals, the Carl Spiering Motorsports Team will be prominent as all three will be competing in this major drag racing event.
With the support of Eaton's Electrical Business (Canadian Operations) and the Eaton Powerware products for the team, Lisa, who will soon begin her post-secondary studies in Biomedical Science at the University of Waterloo, will be driving her 2005 Undercover Dragster, powered by a 522-cubic inch ERD (Engine Research & Development) engine.
While grade 11 student Monica will be driving her Junior Dragster at Grand Bend this weekend, in the near future she is planning to step up to a Spitzer Enterprises 235" Dragster powered by a 565-cubic inch ERD engine which John Weima is debuting this weekend in the Top Dragster class.
The Cobalt of the elder Spiering is a Jerry Bickel Race Cars product, with a 737-cubic inch ERD powerplant.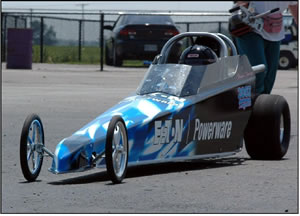 Spiering, one of the initial founders of the Ontario-based Pro Modified Racing Association in 2004, and a regular competitor, with PMRA event wins to his credit as well as setting the eighth-mile elapsed time record (3.970 seconds), now competes in the newly-formed Quick 32 Sportsman Series for Top Sportsman and Top Dragster cars. Daughter Lisa is also a regular in the new Quick 32 Sportsman Series presented by NAPA Auto Parts with her dragster, and both will also be racing in selected IHRA national events.
Carl Spiering Motorsports, www.CarlSpiering.com, would like to thank Eaton's Electrical Business (Canadian Operations) and the Eaton Powerware products for their continued support along with his associate sponsors: Competition Tire Canada - Goodyear Racing Tires, ERD (Engine Research & Development), Excel Tool & Die, Jerry Bickel Race Cars, NGK Spark Plugs, Pennzoil®, PSI Superchargers, Bicknell Racing Products (BRP), The Trailer Shop, VP Racing Fuels, Aeroquip Performance Products, G-Force Race Cars Inc., Cynergy Composites, Scott Jahren Paint and JET Equipment and Tools Ltd.
Photo Credit: Ian Rae - Heads Up Racer www.headsupracer.com, Mark Ackert - Drag Race Canada - www.dragracecanada.com and Bill Mehlenbacher Photography - www.nxphoto.com