Lisa and Monica Spiering gain valuable racing experience at Cayuga
Eaton Powerware dragster drivers compete in track's
Labor Day Championship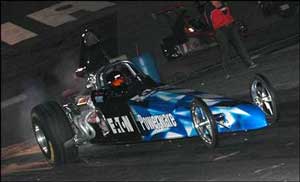 JORDAN STATION, ONTARIO (September 1, 2008) – Although he was at a drag strip this weekend, Carl Spiering was not racing his Eaton Cutler-Hammer 1963 Corvette Pro Modified.

The Jordan Station, Ontario resident was working with daughters Lisa and Monica who were competing in the Labor Day Championship event at the Cayuga Dragway of Toronto's Motorsport Park.

Both girls drive Eaton Powerware dragsters, and although neither won their division during the two-day event, father Carl was pleased with their performance, adding it was a good solid learning session for both.

"Lisa and Monica put in two very competitive days over the weekend," said Spiering, who is guiding his girls through the sport. "Both are acquiring more assurance in their Eaton Powerware dragsters, and gaining valuable experience."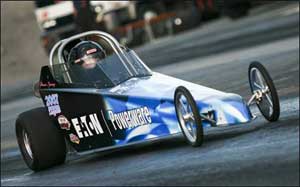 Younger daughter Monica competes in the Junior Dragster ranks, and Lisa ran her full size dragster in both the Top ET and Pro Comp classes at Cayuga. The weekend was especially significant for Lisa, who recorded her career best run to date at 7.56-seconds, 178.8 mph.

"She's real happy with her new time," said Spiering. "She's gaining confidence, and she is handling the car very well."

Spiering also noted that ERD (Engine Research and Development) staff member Rob Becker had a good weekend at Cayuga with his GT/DA Eaton Powerware 1987 Camaro in Can-Am Stock/Super Stock competition.

The Port Colborne racer won on Saturday and went three rounds in Sunday's action to continue his lead in the Can-Am series for 2008. Becker had a strong chance of winning the series this year, which would give him back-to-back championship titles.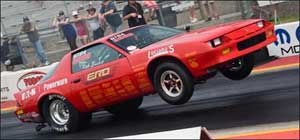 Carl Spiering Motorsports, www.CarlSpiering.com, would like to thank Eaton Cutler-Hammer and Powerware brand products for their continued support along with his associate sponsors: (ATC) Aluminum Trailer Co., Bruno's Automotive, Coan Engineering, Competition Tire Canada - Goodyear Racing Tires, ERD (Engine Research & Development), Excel Tool & Die, Tim McAmis Race Cars, NGK Spark Plugs, Pennzoil®, PSI Superchargers, Bicknell Racing Products (BRP), The Trailer Shop, VP Racing Fuels, Aeroquip Performance Products, G-Force Race Cars Inc., Cynergy Composites, Scott Jahren Paint and JET Equipment and Tools Ltd.

For more information about Carl Spiering Motorsports, please contact Bruce Mehlenbacher at Bruce@JAJEntertainment.com