Upcoming PMRA event at Sanair a
Family affair for Spiering
Two generations of Spierings to compete as part of
Eaton PMRA Challenge
JORDAN STATION, ONTARIO (August 14, 2008) – Carl Spiering will be a busy person this coming weekend.
The driver of the Eaton Cutler-Hammer 1963 Corvette Pro Modified drag racing car will not only be racing in The Third Annual Eaton PMRA Challenge Presented by Eaton on the Southern Quebec dragstrip of Sanair, he will also continue his role as mentor for daughters Lisa and Monica as maturing drag racers.
And he will be front and center as part of the large Eaton presence for its 600 customers, distributors, and employees invited for the event.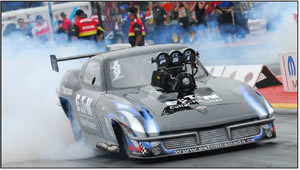 "It will be a busy weekend, that's for sure," said the Pro Modified class winner of this year's IHRA Rocky Mountain Nationals. "But I and the crew of the Eaton Road Warrior will be ready to entertain all the fans, and we're going to get our hot rod down the Sanair track in fine fashion to please all the people from Eaton who have come to support us."
"Both Lisa and Monica will be racing at Sanair in their Eaton Powerware dragsters, and I'll be helping out to make sure they get down the track quickly and safely," Spiering said. "Lisa is now into a dragster and will be running in ET Bracket, and Monica will be competing in her Junior Dragster. Both of my daughters have shown a strong interest in racing, and I'm only too glad to be able to help and guide them."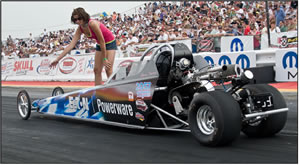 The PMRA race is the fourth in the six-race 2008 season, and the third trip to the fabled Sanair dragstrip just outside of St- Pie, Quebec, south of Montreal. In the inaugural Eaton PMRA Challenge, Spiering was co-winner of the race with NY's Joe Lilienthal in the rain-shortened event. Spiering was also the winner of the first PMRA event, held in May of 2005 at Toronto Motorsports Park.
For information about the Eaton Third Annual Eaton PMRA Challenge presented by Eaton on Saturday, August 16 at Sanair in St-Pie, Quebec near Montreal call (450) 772-6400 or visit online at www.sanairracing.com
Carl Spiering Motorsports, www.CarlSpiering.com, would like to thank Eaton Cutler-Hammer and Powerware brand products for their continued support along with his associate sponsors: (ATC) Aluminum Trailer Co., Bruno's Automotive, Coan Engineering, Competition Tire Canada - Goodyear Racing Tires, ERD (Engine Research & Development), Excel Tool & Die, Tim McAmis Race Cars, NGK Spark Plugs, Pennzoil®, PSI Superchargers, Bicknell Racing Products (BRP), The Trailer Shop, VP Racing Fuels, Aeroquip Performance Products, G-Force Race Cars Inc., Cynergy Composites, Scott Jahren Paint and JET Equipment and Tools Ltd.
For more information about Carl Spiering Motorsports, please contact Bruce Mehlenbacher at Bruce@JAJEntertainment.com