Spiering goes to second round at
Grand Bend IHRA event
"We had a great game plan. It just didn't pan out."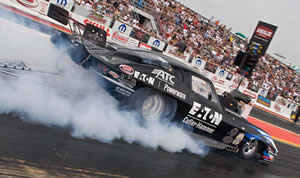 GRAND BEND, ONTARIO (July 23, 2008) - Carl Spiering didn't win the Pro Modified class at the recent Mopar Canadian Nationals at Grand Bend, Ontario last weekend, but the driver of the Eaton Cutler-Hammer 1963 Corvette Pro Modified was pleased with the team's results.

"Grand Bend was a challenging race track," Spiering said after the International Hot Rod Association event, the sixth in the 10-race 2008 Knoll-Gas Nitro Jam Drag Racing Series.

"The track got the better of us," he continued. "We had a great game plan. It just didn't pan out."

Spiering qualified the Eaton Cutler-Hammer 1963 Corvette Pro Modified seventh in the 16-car field with a 6.130-second, 230.45-mph posting. He eliminated Pat Stoken and his Camaro in the first round of eliminations, but went down to Mike Janis in the second round, a victim of tire shake.

"Pro Modifieds are a touchy car," he said after the round. "But we're happy with the car. We have been on a learning curve with the new Bruno's Automotive BRT Converter Drive and we learn more on how to make it work better with each pass."

Spiering, who won the Edmonton IHRA event earlier this month, said he was pleased with the large contingent of Eaton guests on hand for the Grand Bend race.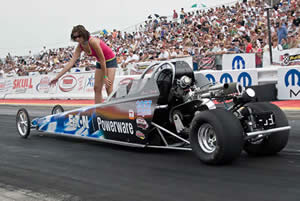 "I was very pleased and honored with the 800 Eaton guests that came to watch us race. Myself, along with my daughters Lisa and Monica, who raced their dragsters at Grand Bend, are very happy with the support. I'm looking forward to good things when we race at the next event at Martin Michigan."

The next event for the Carl Spiering Motorsports Eaton Cutler-Hammer Team is the seventh event of the 10-race International Hot Rod Association (IHRA) Knoll - Gas Nitro Jam™ Drag Racing Series in Martin, Michigan.

The IHRA Torco Northern Nationals in is scheduled for August 1-3 at US 131 Motorsports Park.

For information about US 131 Motorsports Park, call (269) 672-7800 or visit www.us131motorsportspark.com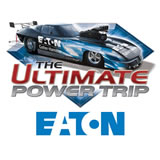 Carl Spiering Motorsports, www.CarlSpiering.com, would like to thank Eaton Cutler-Hammer and Powerware brand products for their continued support along with his associate sponsors: (ATC) Aluminum Trailer Co., Bruno's Automotive, Coan Engineering, Competition Tire Canada - Goodyear Racing Tires, ERD (Engine Research & Development), Excel Tool & Die, Tim McAmis Race Cars, NGK Spark Plugs, Pennzoil®, PSI Superchargers, Bicknell Racing Products (BRP), The Trailer Shop, VP Racing Fuels, Aeroquip Performance Products, G-Force Race Cars Inc., Cynergy Composites, Scott Jahren Paint and JET Equipment and Tools Ltd.

For more information about Carl Spiering Motorsports, please contact Bruce Mehlenbacher at Bruce@JAJEntertainment.com