Spiering IHRA trip to Edmonton a family venture
Daughters Lisa and Monica join Carl in racing at IHRA drag race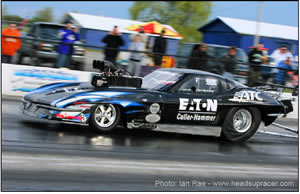 JORDAN STATION, ONTARIO (June 24, 2008) - When the Eaton Cutler-Hammer hauler pulls into Edmonton's Castrol Raceway for the CARS RV & Motorsports Rocky Mountain Nationals the first week in July, it will contain more than Carl Spiering's Pro Modified race car.
After years of watching Dad race, daughters Lisa and Monica Spiering will be competing at the International Hot Rod Association event in Eaton Powerware sponsored race cars.
Both young ladies will be driving dragsters, something their father Carl never did.
"It was always a dragster," said Lisa about the choice of car. "There was never any question about it."
Carl Spiering has worked his way through a succession of faster and faster full-fendered drag race cars to his present 1963 Corvette-bodied Pro Modified, a car capable of sub-six-second runs in the quarter-mile at 240 mph. The class is affectionately known as the "world's fastest doorslammers," a far cry from the long and slender rear-engined cars his daughters compete with.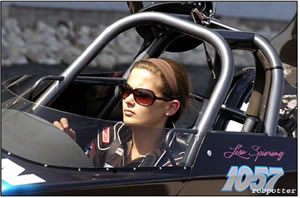 Both girls have been going to the track as long as they can remember. "We always came to the track with him," said Lisa, now 17 and entering grade 12 at Eden High School in nearby St. Catharines. "We were always there. It was and is a big part of our lives."
Both girls said they wanted to try their hand at racing, and both have really enjoyed their first few years of competing.
Monica, who is 14, said she wasn't expected to follow in her sister's footsteps, but tried getting behind the wheel, and was hooked from her first time down the track.
"I wanted to race also," she said. "And once I got started I wanted to continue." Monica, who will be in grade 10, also at Eden High School, started in junior dragsters when she was nine years old, a year before sister Lisa who started when she was 10. Monica added she will really have to be on her game in Edmonton, as the race usually draws at least 50 junior dragster competitors.
Lisa is presently making the transition from a 70 mph junior dragster to a full-sized car that is capable of 170 mph, and is going through the learning curve.
"Every run we're still figuring things out," said Lisa. "There is so much more power, but so far everything has been okay." She added that she has a good working rapport with her Dad and is able to talk and convey to him how the car is operating and handling.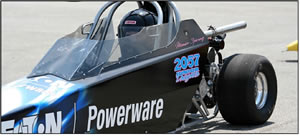 Through the teaching and guidance of father Carl, and the blessing of mother Helena, Lisa and Monica are enjoying themselves in a sport, along with learning the responsibilities associated with the sport. And the girls were quick to point out their mentor.
Both girls made no hesitation when asked if they had any heroes in the sport. "My father," was blurted out in unison.
The Spiering Team will be on display at an Eaton Open House in Calgary, Alberta on July 2 and in Edmonton, Alberta on July 3 prior to the Rocky Mountain Nationals where the team will be a fan favourite in front of over 500 Eaton customers, distributors, employees and guests attending the event.
The CARS RV, Marine & Motorsports Rocky Mountain Nationals presented by Torco Race Fuels International Hot Rod Association (IHRA) Knoll-Gas Nitro Jam™ Drag Racing Series, is scheduled for July 4 – 6 at Castrol Raceway, in Edmonton, Alberta.

For information about Castrol Raceway, call (780) 461-5801 or visit www.castrolraceway.com