Carl Spiering ready for IHRA Motor City Nationals
Innovative new transmission in Eaton Cutler-Hammer
Pro Modified provides renewed confidence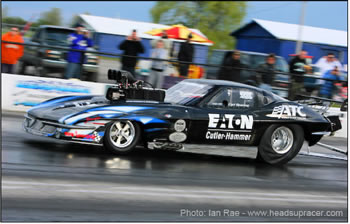 JORDAN STATION, ONTARIO (May 22, 2008) - The Pro Modified drag racing team of Carl Spiering Motorsports is planning to have a successful outing for the International Hot Rod Association's Motor City Nationals at Milan Dragway in Michigan May 23 to 25.
The team recently competed with a new Bruno's Automotive BRT Converter Drive coupled to a Lenco transmission with a torque converter supplied by Coan Engineering, and the car met all expectations.
Carl Spiering, driver of the Eaton Cutler-Hammer sponsored 1963 Chevrolet Corvette Stingray, is quite excited about competing in the IHRA's stout Torco Pro Modified field at Milan Dragway.
"We were able to get enough laps to know this is going to be a great combination," noted Spiering. ""I'm confident this new set-up with our ERD 526-cubic inch Supercharged Hemi will be more competitive."
Running in the rain-shorted Pro Modified Racing Association opener at Toronto Motorsports Park in Cayuga, Ontario last weekend, the Eaton Cutler-Hammer Team was able to post very competitive eighth-mile times in qualifying. The event was postponed due to inclement weather, but Spiering set low elapsed time of the meet.
The Motor City Nationals is the third event in the 11-race Knoll-Gas Motorsports Nitro Jam schedule for 2008. For more information regarding this event, go to www.milandragway.com, or www.ihra.com
The Carl Spiering Motorsports Team, www.carlspiering.com will compete at selected International Hot Rod Association (IHRA) events in Torco's CompetitionPlus.com Pro Modified category, National Hot Rod Association (NHRA) events in the JEGS ProMod Challenge Series, and Pro Modified Racing Association (PMRA) events and venues, which will serve the marketing needs of Eaton's electrical business.
Carl Spiering Motorsports would like to thank Cutler-Hammer and Powerware brand products for their continued support along with his associate sponsors: (ATC) Aluminum Trailer Co., Competition Tire Canada - Goodyear Racing Tires, ERD (Engine Research & Development), Excel Tool & Die, Tim McAmis Race Cars, NGK Spark Plugs, Pennzoil®, PSI Superchargers, Bicknell Racing Products (BRP), The Trailer Shop, VP Racing Fuels, Aeroquip Performance Products, G-Force Race Cars Inc., Cynergy Composites, Scott Jahren Paint and JET Equipment and Tools Ltd.
For more information about Carl Spiering Motorsports, please contact Bruce Mehlenbacher at Bruce@JAJEntertainment.com