Carl Spiering looking forward to PMRA Opener
Eaton Cutler-Hammer Pro Modified team debuts
innovative new transmission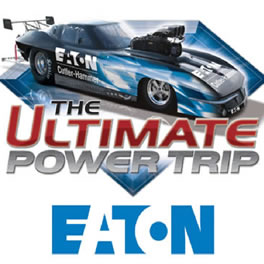 JORDAN STATION, ONTARIO (May 15, 2008) – The Pro Modified drag racing team of Carl Spiering Motorsports is planning to have a successful weekend for the Third Annual Victoria Day Weekend PMRA Challenge at Toronto Motorsports Park in Cayuga, Ontario May 17 and 18.
"The team will debut a new Bruno's Automotive BRT Converter Drive coupled to a Lenco transmission with a torque converter supplied by Coan Engineering," said Spiering, driver of the Eaton Cutler-Hammer sponsored 1963 Chevrolet Corvette Stingray. "We are very excited about the new changes. Jason Hamstra has had great success running the setup linked to ERD (Engine Research & Development) power."
Spiering won the first PMRA race at Toronto Motorsports Park in May of 2005. In fact it was the first race in the history of the Pro Modified Racing Association, as Spiering took out Al Billes of Barrie, Ontario in the final.
"This will be our first weekend testing and competing with the new driveline," added Spiering. "I'm confident this new combination with our ERD (Engine Research & Development) 526-cubic inch Supercharged Hemi will be more competitive."
But Spiering added the weekend event will not be a cakewalk. "There are a lot of strong teams in the PMRA," he said. "This series has grown tremendously in stature. There are lots of new players in the series, and the teams from last year have certainly stepped up their efforts for 2008."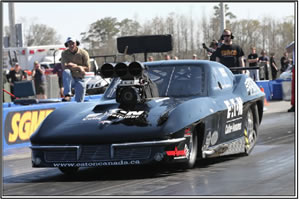 Spiering was quick to thank the support of the team's main sponsor. "It's important that I thank Eaton Corporation's electrical business (Canadian Operations) that provide the primary sponsorship of our drag racing team for the seventh consecutive year," commented the 43-year old Spiering. "I also want to thank our list of associate sponsors for allowing us to continue to do what we love."
The Carl Spiering Motorsports Team, www.carlspiering.com will compete at selected International Hot Rod Association (IHRA) events in Torco's CompetitionPlus.com Pro Modified category, National Hot Rod Association (NHRA) events in the JEGS ProMod Challenge Series, and Pro Modified Racing Association (PMRA) events and venues, which will serve the marketing needs of Eaton's electrical business.
Carl Spiering Motorsports would like to thank Cutler-Hammer and Powerware brand products for their continued support along with his associate sponsors: (ATC) Aluminum Trailer Co., Competition Tire Canada - Goodyear Racing Tires, ERD (Engine Research & Development), Excel Tool & Die, Tim McAmis Race Cars, NGK Spark Plugs, Pennzoil®, PSI Superchargers, Bicknell Racing Products (BRP), The Trailer Shop, VP Racing Fuels, Aeroquip Performance Products, G-Force Race Cars Inc., Cynergy Composites, Scott Jahren Paint and JET Equipment and Tools Ltd.
The Toronto Motorsports Park event will be the first of six events for the 2008 PMRA season.
With increased sponsorship, a record number of teams, and a reinstated Chicago-style Shoot-out to round out the eliminations, this season promises to be the best ever for the PMRA fans.
There will be three qualifying sessions on Saturday, May 17 starting at 4:00 p.m. Eliminations for the top eight qualifiers will begin at 1:00 p.m. Sunday May 18, along with qualifying in the Ajax Engines Chicago-Style Shootout. Finals will begin at about 4:00 p.m.
Joining the PMRA Pro Modifieds will be the Can-Am Stock/Super Stock Series. Known for their pristine stock-appearing race cars and strong wheelstanding launches, this series, formed in 1996, features competitors from Ontario and New York. The popular cars tour each season for championship points and prizes at drag strips throughout Southern Ontario and Western New York.
For information about the Third Annual Victoria Day Weekend PMRA Challenge at Toronto Motorsports Park call (905) 772-0303 or visit online at www.torontomotorsportspark.com
The PMRA will compete at several drag strips in 2008. There are two dates at Toronto Motorsports Park in Cayuga, Ontario, May 17 and 18, and June 28. The next event is at New York International Raceway Park June 7 in New York State, then Dunn Tire Raceway Park July 26, also in New York State. An event is scheduled at the Sanair facility in Quebec August 16, and the season-closer will be held at the Southwestern Ontario track of the Grand Bend Motorplex August 30 and 31.
For more information, contact Bruce F. Mehlenbacher mehlenbacher@ProModifiedRacing.com