Carl Spiering back with Eaton (Canadian Operations) for 2008 Ultimate Power Trip VII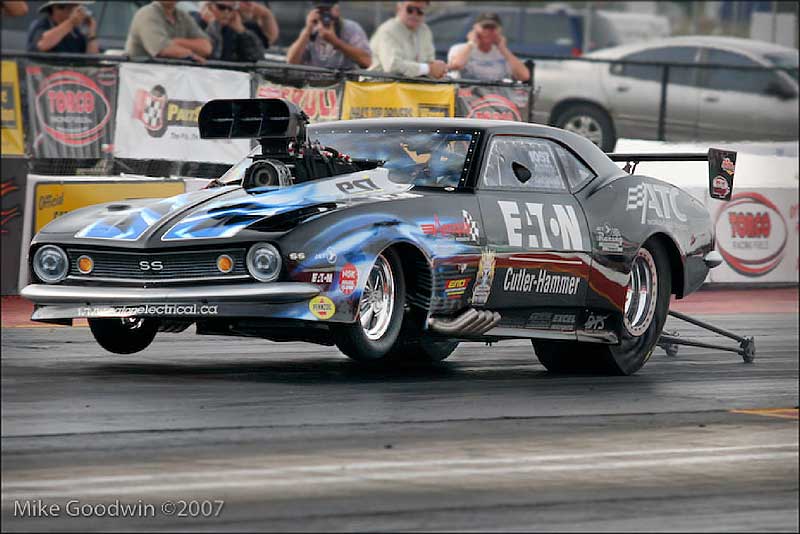 BURLINGTON, ONTARIO (January 18, 2008) – Eaton Corporation's electrical business (Canadian Operations) has announced it will provide the primary sponsorship of drag racing veteran Carl Spiering for the seventh consecutive year.
"Eaton has been instrumental to our successful high-profile professional racing program," said Carl Spiering. "A winning marketing strategy has been established by Eaton, that when combined with drag racing, provides a high level of entertainment for its customers, staff and distributor partners." He went on to say, "When you partner our racing with extensive marketing and public relations activities designed to promote the Cutler-Hammer and Powerware brands, it results in a powerful branding effort by Eaton."
The 2008 strategy for the Eaton Cutler-Hammer Team is for early-season testing at South Georgia Motorsports Park in Valdosta, Ga., during the weekend of March 6 – 8. The team's goals this season are to break the elusive six-second barrier, to win events, and to keep the Eaton Cutler-Hammer Racing Team at the forefront for its sponsors, its fans, and the media.
"Our team has always qualified well, and in 2007 had two final round appearances at International Hot Rod Association (IHRA) Series events," added Spiering. "While we had several very low six-second runs last season, one of our highlights was a personal career best quarter-mile run of 6.00-seconds at 237.63 mph in front of 1,000 Eaton VIP's at the IHRA Canadian Nationals in Cayuga, Ontario."
"Once again, we are excited to be involved with Carl and his team," stated Paul Tlustos, Marketing Communications Manager, Eaton's electrical business (Canada). "Carl and his team's performance, both on and off the track have been very rewarding for Eaton, and we are pleased to be back supporting them for another new season."
The 43-year old Spiering will be driving a new Tim McAmis Race Cars manufactured 1963 Chevrolet Corvette Stingray powered by an ERD (Engine Research & Development) 526-cubic inch Supercharged Hemi, built and maintained at the ERD facility in Jordan Station, Ontario, Canada.
"The team and I are extremely grateful for the support of the Eaton Corporation," said Spiering. "Eaton makes all this possible, and we'll be doing our best."
"We really enjoy traveling and representing Eaton and its customers loyal to the Cutler-Hammer and Powerware brands," he went on. "Our interaction with Eaton industry guests during the racing program is something we all get a real charge out of. "These events seem to get bigger and better and the guests turn into instant fans which is inspiring for us."
The Carl Spiering Motorsports Team, www.carlspiering.com plans include appearances at selected International Hot Rod Association (IHRA) events in Torco's CompetitionPlus.com Pro Modified category, National Hot Rod Association (NHRA) events in the AMS Pro Modified Challenge Series, and Pro Modified Racing Association (PMRA) events and venues, which will serve the marketing needs of Eaton's electrical business.
Carl Spiering Motorsports would like to thank sanctioning bodies, participating tracks, the volunteers, the fans and customers of Cutler-Hammer and Powerware brand products for their continued support along with his associate sponsors: (ATC) Aluminum Trailer Co., Competition Tire Canada - Goodyear Racing Tires, ERD (Engine Research & Development), Excel Tool & Die, Tim McAmis Race Cars, NGK Spark Plugs, Pennzoil®, PSI Superchargers, Bicknell Racing Products (BRP), The Trailer Shop, VP Racing Fuels, Aeroquip Performance Products, G-Force Race Cars Inc., Cynergy Composites, Scott Jahren Paint and JET Equipment and Tools Ltd.
Eaton's Electrical Business (Canadian Operations)
Eaton's electrical business is a global leader in electrical control, power distribution, and industrial automation products and services. Through advanced product development, world-class manufacturing methods and global engineering services and support, Eaton's electrical business provides customer driven solutions under brand names such as Cutler-Hammer®, Powerware®, Durant®, Heinemann®, Holec® and MEM®, which globally serve the changing needs of the industrial, utility, light commercial, residential, and OEM markets. For more information, visit www.eatoncanada.ca
Eaton Corporation is a diversified industrial manufacturer with 2006 sales of $12.4 billion. Eaton is a global leader in electrical systems and components for power quality, distribution and control; fluid power systems and services for industrial, mobile and aircraft equipment; intelligent truck drivetrain systems for safety and fuel economy; and automotive engine air management systems, powertrain solutions and specialty controls for performance, fuel economy and safety. Eaton has 62,000 employees and sells products to customers in more than 125 countries. For more information, visit www.eaton.com