Spiering makes Pro Modified final in
Cayuga IHRA National Event
"We had an awesome weekend the Eaton Road Warrior was deadly consistent"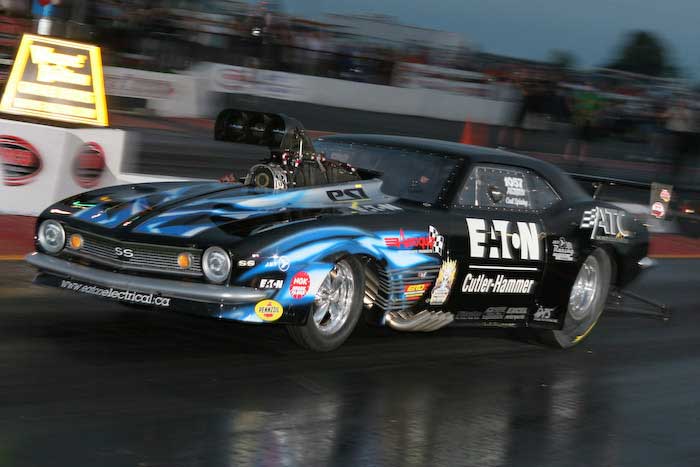 CAYUGA, ONTARIO (September 10, 2007) – Carl Spiering and his Eaton Supercharged Chevrolet Camaro went to the championship round in this weekend's International Hot Rod Association (IHRA) Knoll - Gas Nitro Jam Drag Racing Series in Cayuga, Ontario.
Spiering qualified number three with at 6.008-second 237.63 mph a career best, and went to the finals in the Torco's CompetitionPlus.com Pro Modified category at Toronto Motorsports Park.
"We had an awesome weekend the Eaton Road Warrior was deadly consistent," said Spiering after the event. "I'm very proud of my team."
Spiering lost to John Russo of Middleton, Massachusetts and his 1968 Supercharged Camaro in the final round. Russo ran 3.962-seconds at 189.90-mph to Spiering's 6.277-second, 91.64-mph aborted pass in the championships at the Sixth Annual Canadian Nationals. The race was executed on an eighth-mile length, rather that the customary quarter-mile distance due to water seepage problems on the Cayuga racing surface.
"We went into the weekend pretty much blind having no data on our new clutch program," explained Spiering, the 42-year old driver from Jordan Station, Ontario. "It caught up to us in the final round."
In the first round of final eliminations, Spiering defeated Mike Castellana, from Westbury, New York, in his 2007 Mustang with a 6.24-second 233.92-mph run. Both drivers shook the tires with Spiering recovering early and taking the win.
Following the first round of professional eliminations, the track developed a water seepage problem after a day of rain, and with safety utmost in mind, the IHRA decided to run the competition on an eighth-mile track.
Spiering defeated the number seven qualifier Shannon Jenkins in the quarterfinal round of eliminations and his 2007 GTO from Tuscaloosa, Alabama, with a 3.945-second 187.73-mph run, which was low elapsed time of the round.
In the semi-finals, Spiering in the Eaton Road Warrior beat fellow Canadian Tony Pontieri's 1957 Chevrolet from Toronto, Ontario with a 3.965-second 187.36-mph low elapsed time run of the round and had lane choice in the championship round.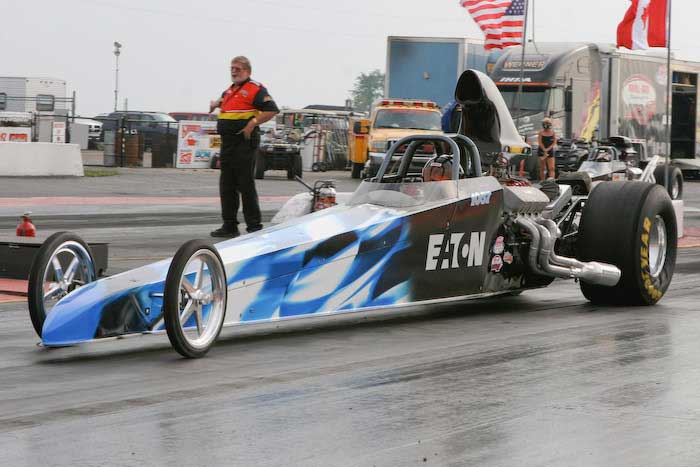 Lisa Spiering, Carl's daughter, was defeated in the second round of Top ET while competing in her first IHRA National Event while debuting her new dragster.
The next event for the Eaton Road Warrior will be at Miramichi Dragway Park in Bellefond, New Brunswick as part of the Ultimate Power trip in Atlantic Canada.
For information about the Noonan Nationals presented by the Atlantic Streetcar Organization at Miramichi Dragway Park, call (506) 260-9012 or visit online at www.miramichidragway.com
Carl Spiering Motorsports, www.CarlSpiering.com, thanks all of its sponsors and supporters including Eaton, (ATC) Aluminum Trailer Co., Competition Tire Canada - Goodyear Racing Tires, ERD (Engine Research & Development), Excel Tool & Die, G-Force Race Cars Inc., NGK Spark Plugs, Pennzoil®, PSI Superchargers, Bicknell Racing Products (BRP), The Trailer Shop, VP Racing Fuels, Eaton's Aeroquip® Performance Products, Cynergy Composites, Scott Jahren Paint and JET Equipment and Tools Ltd.

For more information about Carl Spiering Motorsports, please contact Bruce Mehlenbacher at Bruce@JAJEntertainment.com
Photo credit: MG Digital Media - www.mgdigital.ca