Cayuga IHRA Canadian Nationals
Home for Spiering
"The plan is to put the Eaton Road Warrior back in the winner's circle"
JORDAN STATION, ONTARIO (September 6, 2007) – Carl Spiering is looking forward to this coming weekend when the IHRA Knoll-Gas Nitro Jam™ Drag Racing Series moves to Toronto Motorsports Park in Cayuga, Ontario for the Sixth Annual Canadian Nationals.
"We won this event a couple of years ago," said the driver of the Eaton Pro Modified Supercharged 1967 Chevrolet Camaro. "The plan is to put the Eaton Road Warrior back in the winner's circle," he added. "Lady luck has not been on our side lately, so it's time to win one of these deals."
Pro Modifieds capture the true spirit of hot rodding, and the class is one of drag racing's most exciting and volatile classes, offering a diverse group of race cars with different types of 2,500-horsepower engines.
In 2005, Spiering won the IHRA Torco Race Fuels Pro Modified Shootout, the IHRA ACDelco Nationals and placed third in the IHRA World Championship National Event Tour. Spiering came close this year, going into the final and taking the runner-up position in Edmonton in July.
Spiering said he is enthusiastic about racing in what he considers his home track, and his hometown crowd.
"We are excited to race in front of the hometown crowd and the largest ever group of Eaton Cutler-Hammer guests this weekend. This track has brought us a great deal of success and we are looking forward to building on that history this weekend," said the 42-year old driver from Jordan Station, Ontario, which is about 30 miles from the Kohler Road strip.
He also mentioned the team has struggled a bit this year. "This season has had some challenges," he said. "But we feel as a team our troubles are behind us and our Eaton Cutler-Hammer car and the ERD engine program is ready for a great weekend. We are looking forward to having all the Eaton guests supporting us and with them our team is strong for sure."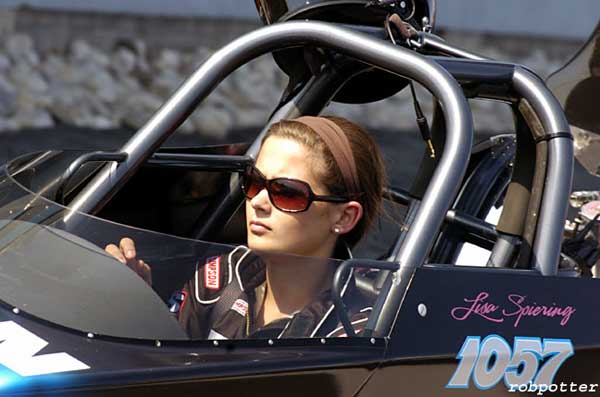 "Also this weekend is the debut of our sixteen year-old daughter Lisa's new dragster," he went on. "Enhanced with the Eaton branding, she will compete in the Box category to get her feet wet for next season in IHRA's Quick Rod class. She is very excited and is looking forward to the weekend as well."
"We've been running a limited schedule of selected high-profile events this year, and the Canadian and Michigan events are very important to Eaton's base of customers, distributors, and employees," said Spiering. "There will be over 1,000 of them at the event this weekend.
Race teams from all over North America will start to arrive at Toronto Motorsport Park, one of Canada's most popular and famous drag strips on Thursday for registration, technical and safety inspection at Canada's oldest drag racing facility that opened for racing in 1954.
The venue will open for spectators Thursday afternoon for weekend camping.
In the Torco's CompetitionPlus.com Pro Modified category race cars combine classic body styles and modern equipment, constructors are permitted, within established rules and parameters, to modify and enhance the cars in both appearance and performance. The cars are fuelled by gasoline or methanol, propelling them down the quarter-mile in low six-second times at speeds over 230 miles per hour.
On Friday, sportsman entries will run time trials all day leading up to professional qualifying at 6:30 p.m.
Carl Spiering will have one opportunity to qualify for the 16-car Pro Modified field at 6:30 p.m. on Friday and two on Saturday at 12:00 noon and at 6:30 p.m.
The IHRA Canadian Nationals at Toronto Motorsports Park provides drag race fans the opportunity to see, hear, and experience the popular Pro Modifieds, known as "the world's fastest door slammers".
Final eliminations will start Sunday at 11:00 a.m.
The Sixth Annual IHRA Canadian Nationals presented by PartSource, the ninth of 11 events on the $19.5 million Knoll-Gas Nitro Jam™ Drag Racing Series at Toronto Motorsports Park in Cayuga, Ontario September 7-9.

For information contact Toronto Motorsports Park call (905) 772-0303 or visit online at www.torontomotorsportspark.com
Carl Spiering Motorsports, www.CarlSpiering.com, thanks all of its sponsors and supporters including Eaton, (ATC) Aluminum Trailer Co., Competition Tire Canada - Goodyear Racing Tires, ERD (Engine Research & Development), Excel Tool & Die, G-Force Race Cars Inc., NGK Spark Plugs, Pennzoil®, PSI Superchargers, Bicknell Racing Products (BRP), The Trailer Shop, VP Racing Fuels, Eaton's Aeroquip® Performance Products, Cynergy Composites, Scott Jahren Paint and JET Equipment and Tools Ltd.

For more information about Carl Spiering Motorsports, please contact Bruce Mehlenbacher at Bruce@JAJEntertainment.com
Photo credit: MG Digital Media - www.mgdigital.ca and Rob Potter Photography