Spiering in IHRA Pro Modified final in Edmonton
"A sign of good things to come this year."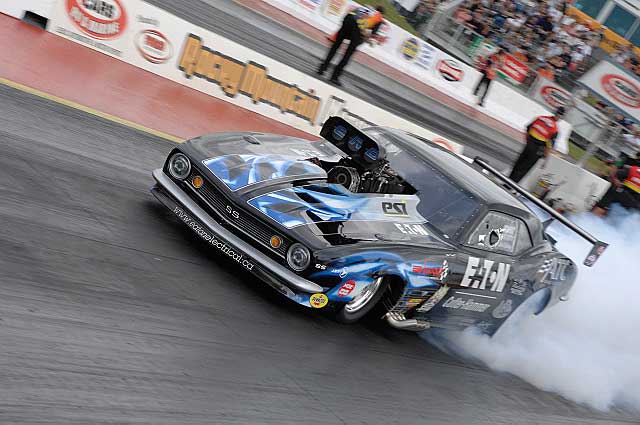 EDMONTON, ALBERTA (July 8, 2007) – Carl Spiering and his Eaton Supercharged Chevrolet Camaro made a big statement in this weekend's International Hot Rod Association (IHRA) Knoll - Gas Nitro Jam Drag Racing Series in Edmonton, Alberta. Spiering qualified number two in the 21-car field, and went to the final round in his first IHRA National event this year.
Spiering lost a close drag race to Ed Hoover in the championships at the CARS RV & Marine & Motorsport Rocky Mountain Nationals presented by Torco Racing Fuels.
"We got out on Hoover on the starting line," said Spiering after the final. "Ed's a good competitor that always runs strong, and he caught us down the track," he added. "I'm very pleased to go to the finals, the guys worked hard all weekend, the Eaton Road Warrior was on its game, and it's a sign of good things to come this year."
In the final Spiering ran 6.198-second, 232.87-mph pass, loosing to Hoover's 6.151-second, 218.09-mph winning run. Spiering was getting some good lights in the rounds, with reaction times of .062, .050, and .064 seconds, and a .029-second light in the final.
"It feels really good to win some rounds at one of these deals,'" added Spiering. "It's always a bonus when you run well in front of an enthusiastic group of Eaton customers and guests. I always enjoy meeting the western Canada folks and we appreciate them cheering us on."
Spiering, the 42-year old driver from Jordan Station, Ontario qualified second in the 16-car field with a 6.103-second 234 mph run and defeated Danny Rowe, Gary Mason and Matt Hagan en route to the Torco's CompetitionPlus.com Pro Modified final against Hoover of Gilbert SC and his 1963 Corvette who qualified 13th in the show.
"This is a great start to our season," Spiering went on. "We'll go home, regroup, find a few more horsepower from what we've leaned this trip, and get the Eaton Road Warrior G-Force Race Cars Camaro ready for the Bend in two weeks. "We had a great race car this weekend, our ERD (Engine Research & Development) engine program was stout, and I just may have got my starting line confidence back in line."
The next event for the Carl Spiering Motorsports Eaton Team is the fifth event of the 11-race International Hot Rod Association (IHRA) Knoll - Gas Nitro Jam™ Drag Racing Series in Grand Bend, Ontario.
The IHRA Eighth Annual MOPAR Canadian Nationals presented by Castrol is scheduled for July 20-22 at the Grand Bend Motorplex.
For information about the Grand Bend Motorplex, call (519) 238-7223 or visit www.grandbendmotorplex.com

Carl Spiering Motorsports, www.CarlSpiering.com, thanks all of its sponsors and supporters including Eaton Electrical, (ATC) Aluminum Trailer Co., Competition Tire Canada - Goodyear Racing Tires, ERD (Engine Research & Development), Excel Tool & Die, G-Force Race Cars Inc., NGK Spark Plugs, Pennzoil®, PSI Superchargers, Bicknell Racing Products (BRP), The Trailer Shop, VP Racing Fuels, Eaton's Aeroquip® Performance Products, Cynergy Composites, Scott Jahren Paint and JET Equipment and Tools Ltd.

For more information about Carl Spiering Motorsports, please contact Bruce Mehlenbacher at Bruce@JAJEntertainment.com

Photo credit: www.dragracecanada.com