Western Canada first stop for
Carl Spiering Motorsports Eaton Electrical Team
"The Eaton Road Warrior is good to go"
JORDAN STATION, ON (June 26, 2006) – Carl Spiering will begin his 2007 professional drag racing season in Western Canada with performances in Mission, British Columbia, and Edmonton, Alberta, in the Carl Spiering Motorsports Eaton Electrical Pro Modified Supercharged 1967 Chevrolet Camaro.
"We set low elapsed time at the event last year at Mission with a 6.03-second, 235.91 mph pass," said Spiering, the 42-year old driver from Jordan Station, Ontario. "The racing environment in British Columbia is exceptional and with over 400 Eaton customers and employees on hand we're hoping for a good showing."
Spiering will be one of the crowd favorites as Eaton presents the "Fast and Furious on the Fraser" Pro Modified event in British Columbia at Mission Dragway June 30 – July 1 prior to the fifth Annual CARS RV, Marine & Motorsports Rocky Mountain Nationals presented by Torco Race Fuels, race four of the 11-event 2007 IHRA Knoll-Gas Nitro Jam™ Drag Racing Series July 6-8 in Edmonton, Alberta.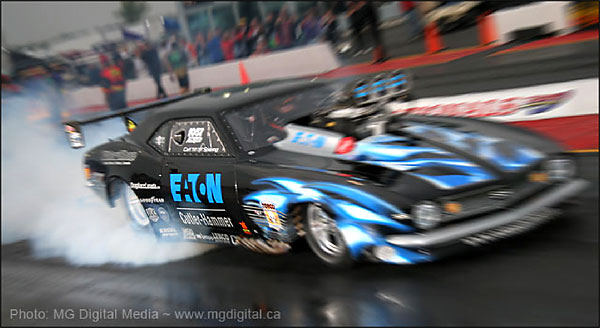 "The Eaton Road Warrior is good to go," added Spiering. "It spent some time with the guys at G-Force Race Cars for some updates in the off-season, and I'm confident that we've found some more horsepower on the dyno in the ERD (Engine Research & Development) shop."
Mission Dragway's Eaton presents "Fast and Furious on the Fraser" is an independent West Coast Pro Mod Association event, open to all competitors and will provide some solid testing for Pro Modified teams prior to the IHRA Rocky Mountain Nationals at Edmonton the following weekend.
The Pro Modified racers will have the opportunity to try out the reputed Mission Raceway track surface for themselves, and while doing so compete for some serious prize money in a class with some heavy hitters, such as Joe Delehay, Ross Hogenson, Trevor Lowe, Dan Vogt, Bryon Mackey, Tom Meheden, Tim Vogt, Danny Rowe, Rod Pierce, Glen May, Vern Mills, Gary Mason, Kirk Kuhns, Glen Kerunsky, Kip Dupuis and Jeff Doyle.
"We've had an opportunity to work with some of our ERD customers testing so far this year to keep us on top of our game, now it's up to me to get us in the winners circle," Spiering continued.
Eaton presents Fast and Furious on the Fraser Pro Modified event will take place at Mission Dragway in British Columbia Saturday and Sunday June 30 – July 1.
For more information about Mission Dragway, call (604) 826-6315 or visit www.missionraceway.com
Carl Spiering Motorsports, www.CarlSpiering.com, thanks all of its sponsors and supporters including Eaton Electrical, (ATC) Aluminum Trailer Co., Competition Tire Canada - Goodyear Racing Tires, ERD (Engine Research & Development), Excel Tool & Die, G-Force Race Cars Inc., NGK Spark Plugs, Pennzoil®, PSI Superchargers, Bicknell Racing Products (BRP), The Trailer Shop, VP Racing Fuels, Eaton's Aeroquip® Performance Products, Cynergy Composites, Scott Jahren Paint and JET Equipment and Tools Ltd.

For more information about Carl Spiering Motorsport, please contact Bruce Mehlenbacher at bruce@jajentertainment.com