Eaton Corporation's electrical business (Canadian Operations) and Carl "Big Dog" Spiering recharge the 2007 Ultimate Power Trip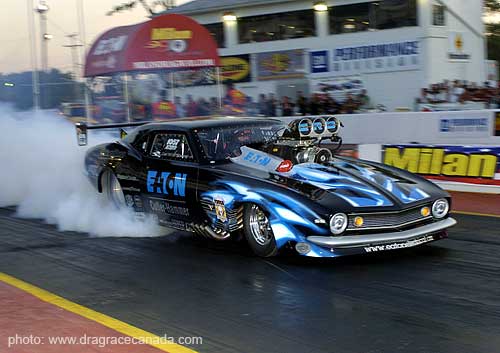 BURLINGTON, ONTARIO (January 8, 2007) - Consistency was the key to the success of the Ultimate Power Trip in 2006, and Eaton Corporation's electrical business (Canadian Operations) has announced drag racing personality Carl Spiering will be back for 2007 flying the Eaton colors.
Spiering, driving the Eaton Supercharged Pro Modified 1967 Chevrolet Camaro, finished the 2006 season in seventh position in the IHRA eMax Nitro Jam™ Drag Racing Series. Spiering was one of two competitors competing in the full IHRA 2006 season to qualify at each event. He continues to lead the chase for the 2007 Torco Race Fuels Pro Modified Shootout that is to be contested at the Torco Racing Fuels Northern Nationals, August 3 to 5, 2007, at US 131 Motorsports Park in Martin Michigan.
The 42-year old driver from Jordan Station, Ontario, known in racing circles as the "Big Dog," is quickly becoming one of the hottest Pro Modified racers and engine builders (Engine Research & Development) on the drag race circuit.
"We are very excited to start our sixth full season supporting Carl Spiering and his racing operation," says Rob Conway, National Marketing Manager for Eaton's electrical business in Canada. "Carl and his team's performance on and off the track have been very rewarding and Eaton is pleased to be back supporting Carl for another new season."
"There is no question that we've found a successful marketing formula in a form of motorsport entertainment that our customers have found extremely exciting," added Conway. "We continue to be overwhelmed by the support of our Customers and Distributor Partners. Their involvement and support in this major initiative is critical to its success."
Spiering believes his 2006 campaign in the competitive IHRA Pro Modified division was successful. "Consistency in qualifying, plus a stout and dependable engine program were key factors to our performance in 2006," he said.
"We really enjoy traveling and representing Eaton and its customers loyal to the Cutler-Hammer and Powerware brands. Our interaction with Eaton industry guests during the racing program is something we all get a real charge out of," added Spiering. "These events seem to get bigger and better and the guests turn into instant fans which is inspiring for us."
The Carl Spiering Motorsports Team, www.carlspiering.com will participate at select IHRA (International Hot Rod Association), PMRA (Pro Modified Racing Association) and WCPMA (West Coast Pro Modified Association) events and venues, which will serve the marketing needs of Eaton's electrical business.
Eaton would like to thank the IHRA, participating tracks, volunteers, its Distributor Partners, along with all the customers loyal to Cutler-Hammer and Powerware brand products for their continued support.

Eaton's Electrical Business (Canadian Operations)
Eaton's electrical business is a global leader in electrical control, power distribution, and industrial automation products and services. Through advanced product development, world-class manufacturing methods and global engineering services and support, Eaton's electrical business provides customer driven solutions under brand names such as Cutler-Hammer®, Powerware®, Durant®, Heinemann®, Holec® and MEM®, which globally serve the changing needs of the industrial, utility, light commercial, residential, and OEM markets. Visit us at www.eatonelectrical.ca
Eaton Corporation is a diversified industrial manufacturer with 2005 sales of $11.1 billion. Eaton is a global leader in electrical systems and components for power quality, distribution, and control; fluid power systems and services for industrial, mobile, and aircraft equipment; intelligent truck drivetrain systems for safety and fuel economy; and automotive engine air management systems, powertrain solutions and specialty controls for performance, fuel economy, and safety. Eaton has 60,000 employees and sells products to customers in more than 125 countries. For more information, visit www.eaton.com
Engine Research & Development
Carl Spiering is the owner of ERD (Engine Research & Development), a facility that features a state of the art Dynamic Test Systems (DTS) dynamometer system that allows competition engines to be developed, tested, and race ready. ERD's reputation is growing into one of the most popular engine suppliers on the Pro Modified circuit, as well as other classes of drag racing and forms of motorsports.