Eaton Road Warrior Team eager for
IHRA meet in Maryland
"All we need is a little luck and we can turn things around"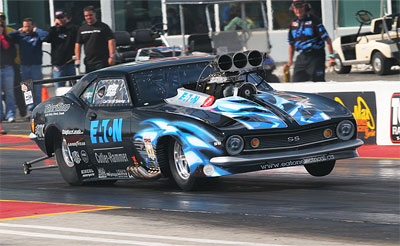 JORDAN STATION, ON (September 28, 2006) – After some less-than-satisfactory showings, Carl Spiering and his Eaton Road Warrior, Carl Spiering Motorsports Eaton Electrical Supercharged Pro Modified Camaro return to Maryland International Raceway this weekend ready to turn things around.
Spiering and his team will be ready to do battle in Maryland for the 15th Annual Torco Racing Fuels President's Cup Nationals, the latest round in the IHRA eMax Drag Racing Series.
"We stayed at Cayuga after the Canadian Nationals and tested the Eaton Road Warrior and feel we have the handle on things going into Maryland this weekend," explained Spiering, the 41-year old driver from Jordan Station, Ontario. "To be honest, I'm a little frustrated but we are very close to changing things around this year."
The upcoming event is race ten of the 11-event International Hot Rod Association (IHRA) eMax Drag Racing Series for 2006. It will be held September 29 – October 1 at Maryland International Raceway in Mechanicsville, Maryland.

"Our team has had excellent support from Eaton and our other sponsors, the media and the race fans, which is very important," he added. "The pressure is on me to go some rounds and win one of these deals and that's what I plan to do. All we need is a little luck and we can turn things around."
For information, on the 15th Annual Torco Racing Fuels President's Cup Nationals call (301) 884-RACE or visit www.mirdrag.com