Spiering qualifies Eaton Road Warrior
ninth for IHRA finals at Cayuga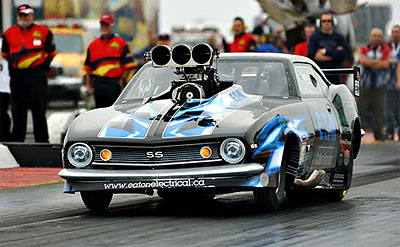 CAYUGA, Ontario (September 23, 2006) – The Eaton Electrical Supercharged Pro Modified Chevrolet Camaro driven by Carl Spiering locked down ninth position during the final qualifying session at the International Hot Rod (IHRA) eMax Drag Racing Series in Cayuga, Ontario at the Fifth Annual Canadian Nationals at Toronto Motorsports Park on Saturday.
"The Eaton Road Warrior was good in the first round of qualifying on Friday running a 6.196-second, 230.76-mph pass qualifying us sixth, said Carl Spiering. "Our second run may have been a little conservative and we dropped to ninth spot with a 6.367-second, 230.33-mph. The good news is that we are solidly in the program, the bad news is we get the number one qualifier in round one."
The Carl Spiering Motorsports entry will face number one qualifier Tony Pontieri from Toronto, Ontario and his 1957 Bel Air in the first round of the final eliminations on Sunday starting at 11:00 a.m. EST.
"Tony (Pontieri) has been one tough customer lately and we have our work cut out for us," added Spiering from Jordan Station, Ontario. "Tomorrow is a new day, we have lots of Eaton Electrical fans here and our plan is not to disappoint them, we'll be ready."
The Fifth Annual Canadian Nationals, International Hot Rod Association (IHRA) eMax Drag Racing Series is taking place at Toronto Motorsports Park located in Cayuga, Ontario.
For more information about Toronto Motorsports Park call (905) 772-0303 or visit www.TorontoMotorsportsPark.com
Photo courtesy of Chris Simmons ~ www.competitionplus.com