Eaton Ultimate Power Trip visits Atlantic Canada
Miramichi Dragway Park hosts Spiering's Eaton Road Warrior
at Noonan Nationals
JORDAN STATION, ON (September 14, 2006) – Carl Spiering and his Eaton Electrical Supercharged Pro Modified Chevrolet Camaro will visit Miramichi Dragway Park in Bellefond, New Brunswick for the annual Noonan Nationals presented by the Atlantic Streetcar Organization this Saturday.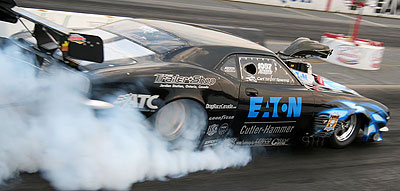 "We always look forward to returning to Eastern Canada for our annual visit at Miramichi," said Spiering. "The East Coast is famous for their exceptional hospitality and good times and we're excited to see our good friends, as they love the Eaton Road Warrior."
Miramichi Dragway Park is a quarter-mile drag strip located in the New Brunswick town of Miramichi.
"The event will give Eaton Electrical an opportunity to entertain over 500 of our customers from Nova Scotia, Prince Edward Island and New Brunswick," explained Paul Tlustos, Eaton's Electrical business (Canadian Operations) Marketing Communications Manager. "It's always a great event that everyone looks forward too."
The Carl Spiering Motorsports Eaton Electrical Supercharged Pro Modified G-Force Race Cars Inc. Chevrolet Camaro is powered by a 526-cubic inch Brad Anderson Hemi power plant with Alan Johnson cylinder heads, a SSI Supercharger, and a Carl Spiering ERD (Engine Research and Development) fuel system, all united to a Lenco three-speed transmission with an Applied Friction Technologies (AFT) clutch.
For information about the Noonan Nationals presented by the Atlantic Streetcar Organization at Miramichi Dragway Park call (506) 260-9012 or visit online at www.miramichidragway.com