Spiering goes to final round in Eaton PMRA Challenge presented by Eaton's Electrical business
Eaton Road Warrior Team qualifies number one for Sanair Pro Modified event,
but rain cancels final round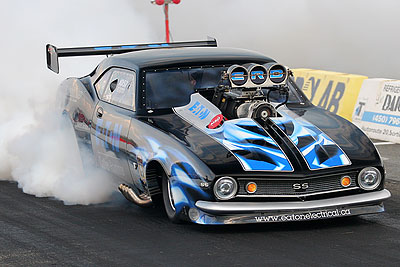 ST-PIE, QUEBEC (August 19, 2006) – Top Pro Modified competitor Carl Spiering and his Eaton Electrical Supercharged Chevrolet Camaro were strong competitors in today's Pro Modified Racing Association (PMRA) event at the Sanair Motorsport Complex in St-Pie, Quebec outside of Montreal.
While Spiering, of Jordan Station, ON, bested the field of strong PMRA Pro Modified cars, and was a finalist for the event in front of a large crowd, the final run was called due to rain at the Sanair track.
"We were running strong all day," said Spiering. "The team worked hard and gave me a real good car to drive, and we were all looking forward to capturing this race in front of the almost 700 Eaton Electrical people who were on hand for the day to cheer us on."
Spiering was pitted against fellow PMRA competitor and 2005 champion Joe Lilienthal of Kenmore, NY. Spiering qualified the Eaton Road Warrior number one in the field with a strong 4.17-second, 176.99-mph effort on the Sanair eighth-mile track.
The next event for Spiering will be round eight of the 11-event International Hot Rod Association (IHRA) eMax Drag Racing Series Skull Shine World Nationals presented by ACDelco, August 24-27 at Norwalk Raceway Park.
For information, about the Skull Shine World Nationals at Norwalk Raceway Park located east of Norwalk, Ohio, on Route 18 call (419) 668-5555, or visit www.norwalkraceway.com
Photo: www.mgdigital.ca