Spiering to defend title in Torco Racing Fuels Pro Modified Shootout
Eaton Road Warrior Team set for another Championship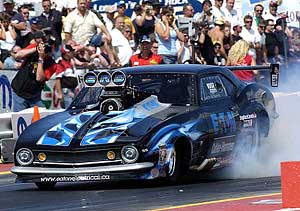 JORDAN STATION, ON (August 3, 2006) - Carl Spiering will return to U.S. 131 Motorsports Park in Martin, Michigan to defend his title in the Torco Racing Fuels Pro Modified Shootout at the Northern Nationals in the IHRA eMax Drag Racing Series this weekend.
Spiering, driver of the Eaton Electrical Supercharged Pro Modified Chevrolet Camaro will be one of the favorites as the IHRA's Pro Modified contingent "great eight" race-off to determine the best in the Pro Modified ranks.
"We should have a good shot at repeating, we've had lots of time to prepare and the Eaton Road Warrior Team is focused on winning like I've never seen them before," said the 41-year old Spiering, from Jordan Station, Ontario. "It's time to turn this year around and win some events. There's big money up this weekend thanks to Torco and we want it."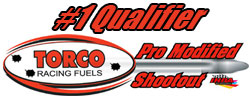 Carl Spiering leads the pursuit in the chase over all other teams in the Torco Racing Fuels Pro Modified class earning points based on the teams' final qualifying spot at each national event. The top eight point earners will have the opportunity this weekend to participate in the 2006 Torco Race Fuels Pro Modified Shootout.
Canadian Spiering suffered a car-destroying crash at the first race of the season, but was able to rebuild his race program and not miss a beat. He'll face-off in the first round against Scotty Cannon, Jr., son of multiple-time world champion Scott Cannon, Sr. Ironically like Spiering, Cannon suffered a devastating crash in his new GTO to kick off the season, but has been running well since.
The 25th Anniversary Torco Racing Fuels Northern Nationals will begin Friday, August 4 in Martin, Michigan, and will conclude with championship eliminations Sunday, August 6.
Spiering had a very strong 2005 season, and he plans on continuing the IHRA Pro Modified Championship pursuit this year. In 2005, Spiering won the IHRA Torco Race Fuels Pro Modified Shootout and the IHRA ACDelco Nationals. Overall Spiering placed third in the IHRA World Championship National Event Tour.
The International Hot Rod Association (IHRA) eMax Drag Racing Series event will take place at U.S. 131 Motorsport Park. For more information, visit www.us131motorsportspark.com