IHRA Canadian Nationals Washed Out
Courtesy: IHRA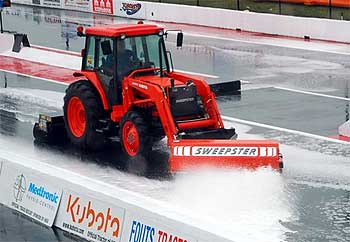 CAYUGA, ON (July 24, 2006) – The weather front that washed out Friday's IHRA Canadian Nationals professional qualifying sessions at Toronto Motorsports Park refused to cooperate for Saturday's scheduled racing as well. After hours of steady downpour in Cayuga, IHRA decided to pull the plug on the weekend's event. The IHRA Canadian Nationals have been rescheduled for the weekend of September 23-24.
"It's unfortunate, but these are the realities you have to face when you hold outdoor events. Mother Nature does not always cooperate," IHRA President Aaron Polburn said. "We looked at the weather report for the rest of the day today and tomorrow and decided things weren't going to work out. We'll come back in September and have a great event."
Carl Spiering continues to lead, and is the defending Champion in the chase over all other teams in the Torco Race Fuels Pro Modified class earning points based on their final qualifying spot at each national event. The top eight point earners will have the opportunity to participate in the 2006 Torco Race Fuels Pro Modified Shootout, which will be held in Martin, Michigan at the Northern Nationals.
The next event on the 2006 eMax Drag Racing Series is the Torco Race Fuels Northern Nationals, August 4-6, at U.S. 131 Motorsports Park in Grand Rapids, Michigan.
The Carl Spiering Motorsports Eaton Electrical Supercharged Pro Modified G-Force Race Cars Inc. Chevrolet Camaro is powered by a 526-cubic inch Brad Anderson Hemi power plant with Alan Johnson cylinder heads, a SSI Supercharger, and a Carl Spiering ERD (Engine Research and Development) fuel system, all united to a Lenco three-speed transmission with an Applied Friction Technologies (AFT) clutch.
Carl Spiering Motorsports, www.CarlSpiering.com, thanks all of its sponsors and supporters including Eaton Electrical, (ATC) Aluminum Trailer Co., Competition Tire Canada - Goodyear Racing Tires, ERD (Engine Research and Development), Excel Tool & Die, G-Force Race Cars Inc., NGK Spark Plugs, Pennzoil®, RBS Superchargers, SSI Superchargers, Bicknell Racing Products (BRP), The Trailer Shop, VP Racing Fuels, Synergy Composites, AFT Clutches, No Limit Custom Coach Trailers and Scott Jahren Paint.
Photo: www.competitionplus.com