Spiering voted Inside Track Readers' Choice Award

Toronto, ON (July 13, 2006) - Carl Spiering, driver of the Eaton Electrical Supercharged Pro Modified Chevrolet Camaro, was voted top drag racer in Canada in the fourth annual Inside Track Readers' Choice Awards, announced in the July 2006 issue of Inside Track Motorsport News.
Inside Track Motorsport News is Canada's top racing magazine, and the Readers' Choice Awards are a key component of the magazine's commitment to shine a bright light on this country's current and future stars.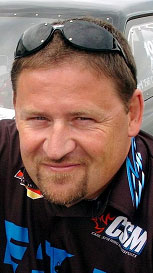 "This certainly is an honor and the fact that it is voted on by the fans is a very exciting reward," said Spiering. "Honestly, I had no idea we won the award until I read about it in Inside Track. Just to be nominated in a category with Rob Atchison and Todd Paton says a lot for the Eaton Road Warrior Team," added the 41-year old driver from Jordan Station, Ontario. "I'm thrilled to be a part of this elite group, to represent the leaders in Canadian motorsports such as Don Thomson and Ron Fellows." With a serious passion for fast machines in any type of competition, Carl Spiering is quickly becoming one of the hottest Pro Modified racers on the drag race circuit.
Spiering had a very strong 2005 season, and he plans on continuing the IHRA Pro Modified Championship pursuit this year. In 2005, Spiering won the IHRA Torco Race Fuels Pro Modified Shootout and the IHRA ACDelco Nationals. Overall Spiering placed third in the IHRA World Championship National Event Tour.
Spiering joined other notable winners including first-time winner and Stock Car Racer of the Year – Don Thomson Jr., five-time and defending CASCAR Super Series champion and Road Racer of the Year and Ron Fellows (ALMS, SPEED GT) who picked up a trio of additional awards. For the second time in Inside Track Readers' Choice Awards history, he was chosen as Overall Canadian Racer of the Year. Also, Fellows was selected as the Canadian Racer of the Year Competing at the Highest Levels of International Competition and Most Deserving of Induction in the Canadian Motorsport Hall of Fame. The Canadian Motorsport Hall of Fame has incorporated several Readers' Choice Award winners into their induction celebrations.
In past years Inside Track supplied a list of potential nominees in each of 12 categories representing various popular forms of racing in Canada, however this time voters were given free rein to nominate any racer they chose. Inside Track wanted to ensure that every single Canadian racer had the chance to win, regardless of whether or not they were a 'popular' choice.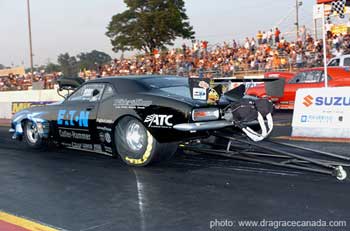 All voting for the Inside Track Readers' Choice Awards, was conducted via a controlled balloting procedure at the official Inside Track website www.insidetracknews.com
Carl Spiering continues to lead, and is the defending Champion in the chase over all other teams in the Torco Race Fuels Pro Modified class earning points based on their final qualifying spot at each national event. The top eight point earners will have the opportunity to participate in the 2006 Torco Race Fuels Pro Modified Shootout, which will be held in Martin, Michigan at the Northern Nationals.
The next International Hot Rod Association (IHRA) eMax Drag Racing Series event of the season the Fifth Annual Canadian Nationals will take place July 21-23 at Toronto Motorsports Park in Cayuga, Ontario. For information, call 905.772.0303 or visit www.TorontoMotorsportsPark.com