Ignition woes sideline Spiering in Michigan IHRA race
"Our next stop is at home in Cayuga
where we won last year in the Eaton Road Warrior"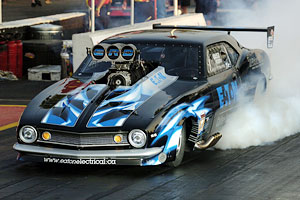 MILAN, MI (July 9, 2006) – Carl Spiering's day ended abruptly with an ignition magneto failure in the second round of the final eliminations Sunday at the International Hot Rod (IHRA) eMax Drag Racing Series Fourth Annual Suzuki Motor City Nationals at Milan Dragway in Michigan.
"This season certainly has been a test of one's sanity, said Spiering. "Our next stop is at home in Cayuga (Ontario) where we won last year in the Eaton Road Warrior," added the 41-year old driver from Jordan Station, Ontario. "We're big boys and we will rebound in front of our home town fans where we will be one of the favorites. This is when things turned around for us last year winning the Canadian Nationals and then the Torco Shootout."
Spiering, driving the Eaton Electrical Supercharged Pro Modified Chevrolet Camaro, defeated a red lighting Dennis Radford of Oregon in a 1963 Corvette in first round of final eliminations. Spiering ran a 6.172 second elapsed time pass at 232.91 miles per hour.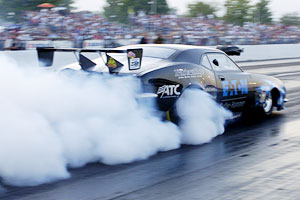 In the second round Spiering's Eaton Road Warrior was matched with Scotty Cannon's 2006 Pontiac GTO. Spiering was unable to keep the car running despite several attempts to start the engine. The engine would fire when primed and then quit. Cannon, from South Carolina, in a single, lost traction almost immediately when he launched from the starting line to run an off-the-pace 12.353 second elapsed time lap at 82.92 miles per hour.
Carl Spiering continues to lead, and is the defending Champion in the chase over all other teams in the Torco Race Fuels Pro Modified class earning points based on their final qualifying spot at each national event. The top eight point earners will have the opportunity to participate in the 2006 Torco Race Fuels Pro Modified Shootout, which will be held in Martin, Michigan at the Northern Nationals.
The next International Hot Rod Association (IHRA) eMax Drag Racing Series event of the season the Fifth Annual Canadian Nationals will take place July 21-23 at Toronto Motorsports Park in Cayuga, Ontario. For information, call 905.772.0303 or visit www.TorontoMotorsportsPark.com
Photo: www.dragracecanada.com