Carl Spiering's Eaton Road Warrior fifth in final Michigan IHRA qualifying
Eaton Electrical Camaro holds Torco Race Fuels Pro Modified Shootout chase lead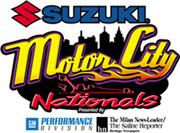 MILAN, MI (July 8, 2006) – The Eaton Electrical Supercharged Pro Modified Chevrolet Camaro piloted by Carl Spiering secured fifth position during the final qualifying sessions at Milan Dragway's International Hot Rod (IHRA) eMax Drag Racing Series Fourth Annual Suzuki Motor City Nationals Presented by GM Performance Division & the Heritage Newspapers in Milan, Michigan on Saturday.
In the third and final round of qualifying for the Knoll Gas - Torco Race Fuels Pro Modified field Spiering ran a near identical 6.136 seconds elapsed time at 232.35 miles per hour to match his first qualifying attempt of 6.134 seconds elapsed time at 233.72 miles per hour.
"To qualify the Eaton Road Warrior fifth in the field of the top thirty-six Pro Modified competitors in the world is no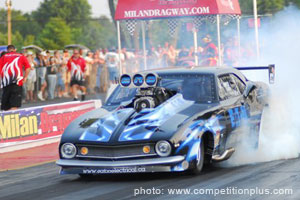 small feat. This Eaton team is on top of their game, to run a 6.13, a 6.16 and now another 6.13 is outstanding," said 41-year-old Spiering, from Jordan Station, Ontario. "This kept us in the Torco Shootout lead which is very important. We need to win this deal on Sunday for all of friends at Eaton and our fans, I'm thrilled."
The Carl Spiering Motorsports entry will face fellow Canadian Glen Kerunsky, from Priddis Alberta in the first round of the final eliminations at the IHRA Fourth Annual Suzuki Motor City Nationals on Sunday starting at 11:00 a.m. EST.
The Fourth Annual Suzuki Motor City Nationals Presented by GM Performance Division & the Heritage Newspapers is taking place at Milan Dragway in Milan, Michigan located just off US 23 at Plank Road Exit 25. For more information about Milan Dragway, call 1.734.439.7368 or visit www.motorcitynationals.com