Michigan next stop for Carl Spiering Motorsports With Eaton Road Warrior at Milan Dragway
Eaton Electrical Camaro leads Torco Race Fuels Pro Modified Shootout chase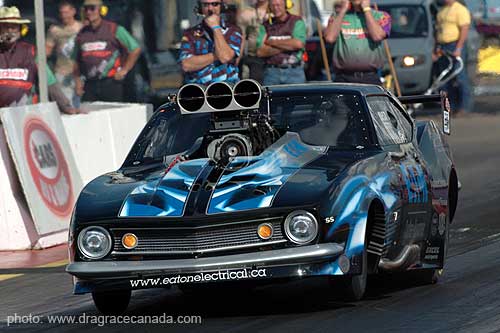 JORDAN STATION, ON (June 30, 2006) – Carl Spiering and the Eaton Electrical Pro Modified Supercharged 1967 Chevrolet Camaro will be in Milan, Michigan, July 7-9, for race five of the 11-event 2006 IHRA eMax Drag Racing Series.
"We've been able to qualify real well this season, that's what pushed us to the top of the Torco Race Fuels Pro Modified Shootout chase," said Spiering, from Jordan Station, Ontario. "We need to go some rounds and win a few of these deals this year. I'm confident in the team and the Eaton Road Warrior."
Spiering ran a career best on his recent western Canada tour and qualified number one at Mission Dragway with a 6.03-second, 235.91 mph pass and won Best Engineered Car and qualified 5th at Edmonton in the IHRA eMax Drag Racing Series.
"Unfortunately, I lost in round one in Edmonton, the competition at these IHRA National Events is stout," Spiering added. "The guys in the ERD shop have been making good horsepower and this G-Force Race Cars Camaro is slick. The fans seem to love the car and that's really important, we couldn't do this without the fans."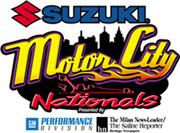 The Fourth Annual Suzuki Motor City Nationals Presented by GM Performance Division & the Heritage Newspapers will begin Friday, July 7, in Milan, Michigan, and will conclude with championship eliminations Sunday, July 9.
Spiering had a very strong 2005 season, and he plans on continuing the IHRA Pro Modified Championship pursuit this year. In 2005, Spiering won the IHRA Torco Race Fuels Pro Modified Shootout and the IHRA ACDelco Nationals. Overall the 41-year old placed third in the IHRA World Championship National Event Tour.
Spiering crashed the Carl Spiering Motorsports Eaton Electrical Pro Modified Chevrolet Corvette at the first race of the 2006 season in the quarterfinals at the Texas Nationals at San Antonio Raceway March 26. Spiering was taken to hospital after the incident and released the same night with broken ribs, bumps, and bruises. The Camaro replaced the Corvette.
With a serious passion for fast machines in any type of competition, Carl Spiering and his Carl Spiering Motorsports Eaton Electrical 1967 Chevrolet Camaro Supercharged Pro Modified is quickly becoming one of the hottest Pro Modified racers on the drag race circuit.
The Fourth Annual Suzuki Motor City Nationals Presented by GM Performance Division & the Heritage Newspapers will take place at Milan Dragway in Milan, Michigan July 7-9. For more information about Milan Dragway, call 1.734.439.7368 or visit www.motorcitynationals.com