Edmonton next stop for Carl Spiering Motorsports Eaton Electrical Camaro
"This new Eaton Road Warrior Camaro is definitely a keeper"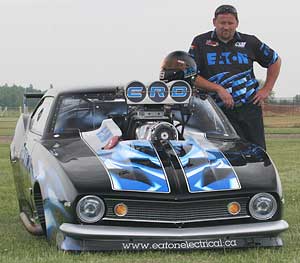 JORDAN STATION, ON (June 21, 2006) – The next stop for the Carl Spiering Motorsports Eaton Electrical Pro Modified Supercharged 1967 Chevrolet Camaro will be in Edmonton, Alberta, June 23-25, for race four of the 11-event 2006 IHRA eMax Drag Racing Series.
"This new Eaton Road Warrior Camaro is definitely a keeper," said Spiering, from Jordan Station, Ontario. "The guys at G-Force Race Cars really did a great job building this car. She sure is pretty too; the detail on the Synergy Composites body and Scott Jahren Paint is outstanding. She's a hit wherever we go."
The Fourth Annual CARS RV, Marine & Motorsports Rocky Mountain Nationals presented by Torco Race Fuels will begin Friday, June 23, in Edmonton, and will conclude with championship eliminations Sunday, June 25.
"We ran our career best last weekend at Mission with a 6.03-second, 235.91 mph pass," Spiering noted. "We need to qualify well and win some rounds in Edmonton which will help pick up our pace in the IHRA championship points race."
Spiering had a very strong 2005 season, and he plans on continuing the IHRA Pro Modified Championship pursuit this year. In 2005, Spiering won the IHRA Torco Race Fuels Pro Modified Shootout and the IHRA ACDelco Nationals. Overall the 41-year old placed third in the IHRA World Championship National Event Tour.
Spiering crashed the Carl Spiering Motorsports Eaton Electrical Pro Modified Chevrolet Corvette at the first race of the 2006 season in the quarterfinals at the Texas Nationals at San Antonio Raceway March 26. Spiering was taken to hospital after the incident and released the same night with broken ribs, bumps, and bruises. The Camaro replaced the Corvette.
With a serious passion for fast machines in any type of competition, Carl Spiering and his Carl Spiering Motorsports Eaton Electrical 1967 Chevrolet Camaro Supercharged Pro Modified is quickly becoming one of the hottest Pro Modified racers on the drag race circuit.
The Fourth Annual CARS RV, Marine & Motorsports Rocky Mountain Nationals presented by Torco Race Fuels will take place in Edmonton, Alberta June 23-25. For more information about Castrol Raceway, call 1-877-331-RACE (7223) or visit www.castrolraceway.com