Carl Spiering Motorsports sets personal best
in British Columbia
"This Eaton Road Warrior Pro Modified Camaro is trick. I love it."
MISSION, BC (June 18, 2006) – Carl Spiering's recent trip to Western Canada was highlighted by a personal best performance at the Eaton Cutler-Hammer "Thunder by the River" Pro Modified Shootout at Mission Dragway in Mission, British Columbia.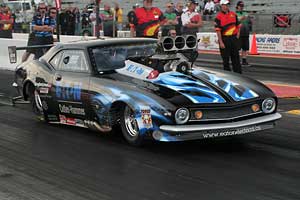 The Carl Spiering Motorsports Eaton Electrical Pro Modified Supercharged 1967 Chevrolet Camaro ran passes of 6.10, 6.07, and then recorded a 6.03-second, 235.91 mph pass, setting low elapsed time of the event. In the semi-finals of the Eaton Cutler-Hammer event, Spiering shook the tires hard allowing opponent Glen Kerunsky to advance to the finals. Second generation Pro Modified racer Scott Cannon went on to defeat Kerunsky in the finals.
"It was a great weekend for the Eaton Road Warrior, the weather was beautiful, the conditions were great and the track was breathtaking," explained Carl Spiering. "Eaton Electrical entertained over 375 guests this weekend and we had a good time meeting all of the great people who were here cheering us on. Even though we didn't win the event we gathered more data that will help us fine tune our IHRA National Event setup. The more I drive the car the more I feel that this Eaton Road Warrior Pro Modified Camaro is trick. I love it."
"We are in great shape for the IHRA race in Edmonton this weekend," added Spiering, from Jordan Station, Ontario. Eaton has us doing some personal appearances this week then it's off to the track in Edmonton where we plan to better our amazing performance."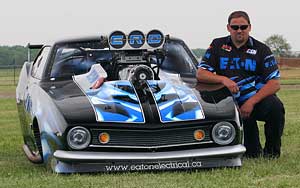 Spiering will compete in the fourth Annual CARS RV, Marine & Motorsports Rocky Mountain Nationals presented by Torco Race Fuels, race four of the 11-event 2006 IHRA eMax Drag Racing Series June 23-25 in Edmonton, Alberta.
Spiering had a very strong 2005 season, and he plans on continuing the IHRA Pro Modified Championship pursuit this year. In 2005, Spiering won the IHRA Torco Race Fuels Pro Modified Shootout and the IHRA ACDelco Nationals. Overall the 41-year old placed third in the IHRA World Championship National Event Tour.
Spiering crashed the Carl Spiering Motorsports Eaton Electrical Pro Modified Chevrolet Corvette at the first race of the 2006 season in the quarterfinals at the Texas Nationals at San Antonio Raceway March 26. Spiering was taken to hospital after the incident and released the same night with broken ribs, bumps, and bruises. The Camaro replaced the Corvette.