Carl Spiering Motorsports
Eaton Electrical Camaro head West
"Cannon, DiStefano, and Kerunsky are serious competitors
that would enjoy thumping on the Eaton Road Warrior"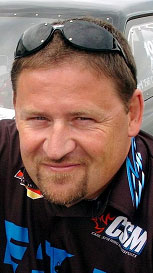 JORDAN STATION, ON (June 12, 2006) – Carl Spiering is heading west as part of the team's professional drag racing swing to western Canada, as the Carl Spiering Motorsports Eaton Electrical Pro Modified Supercharged 1967 Chevrolet Camaro has dates to race in Mission, British Columbia, and Edmonton, Alberta.
Spiering will compete in the Eaton Cutler-Hammer "Thunder by the River" Pro Modified Shootout in British Columbia at Mission Dragway June 17-18 prior to the fourth Annual CARS RV, Marine & Motorsports Rocky Mountain Nationals presented by Torco Race Fuels, race four of the 11-event 2006 IHRA eMax Drag Racing Series June 23-25 in Edmonton, Alberta.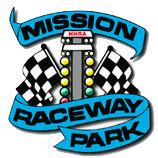 "We are really looking forward to our annual trip west, visiting our fans and spending time with the Eaton Electrical customers and employees," said Spiering, who makes his home in Jordan Station, Ontario. "The Eaton Road Warrior ran well at the Bend, and the event at Mission will give us some quality time to fine tune her for Edmonton."
The Eaton Cutler-Hammer "Thunder by the River" Pro Modified Shootout at Mission Dragway is an independent event, open to all competitors and will provide some solid testing for Pro Mod teams prior to the IHRA Rocky Mountain Nationals at Edmonton the following weekend. The Pro Modified racers will have the opportunity to try out the reputed Mission Raceway track surface for themselves, and while doing so compete for some serious prize money in a class with some heavy hitters, such as Scott Cannon, Rick DiStefano, Glen Kerunsky, Trevor Lowe, and Kirk Kuhns.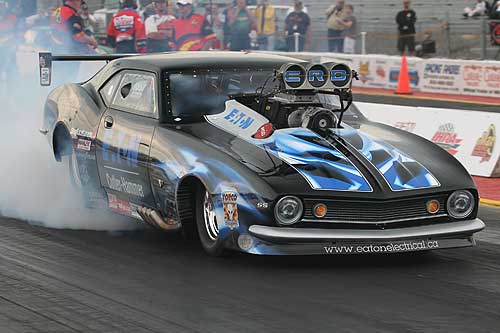 "Mission will be no walk in the park," said Spiering. "Cannon, DiStefano and Kerunsky are serious competitors, that would enjoy thumping on the Eaton Road Warrior," he added. "They have no sense of humor when it comes to getting beat up."
Spiering had a very positive 2005 season, and he plans on continuing the pursuit this year. In 2005, Spiering had strong season, winning the IHRA Torco Race Fuels Pro Modified Shootout and the IHRA ACDelco Nationals. The 41-year old placed third in the IHRA World Championship National Event Tour.
Spiering crashed the Carl Spiering Motorsports Eaton Electrical Pro Modified Chevrolet Corvette at the first race of the year in the quarterfinals at the Texas Nationals at San Antonio Raceway March 26 in Texas. Spiering was taken to hospital after the incident and released the same night with broken ribs, bumps, and bruises. The Camaro replaced the Corvette.
With a serious passion for fast machines in any type of competition, Carl Spiering and his Carl Spiering Motorsports Eaton Electrical 1967 Chevrolet Camaro Supercharged Pro Modified is quickly becoming one of the hottest Pro Modified racers on the drag race circuit.
The Eaton Cutler-Hammer "Thunder by the River" Pro Modified Shootout will take place at Mission Dragway in British Columbia Saturday and Sunday June 17-18. For more information about Mission Dragway, call 1.604.826.-6315 or visit www.missionraceway.com