Carl Spiering Motorsports Eaton Electrical Camaro heads for Grand Bend
Team contending for the IHRA World Championship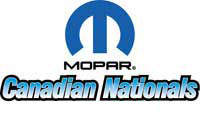 JORDAN STATION, ON (May 29, 2006) – Carl Spiering will make his 2006 Canadian debut in the new Carl Spiering Motorsports Eaton Electrical Pro Modified Supercharged 1967 Chevrolet Camaro entry at the upcoming 7th Annual Mopar Canadian Nationals. This event is the third in the 2006 IHRA eMax Drag Racing Series and will be held in Grand Bend, Ontario, June 2-4 at the Grand Bend Motorplex.
Spiering had a very positive 2005 season, and he plans on continuing the pursuit this year. In 2005, Spiering had strong season, winning the IHRA Torco Race Fuels Pro Modified Shootout and the IHRA ACDelco Nationals. The 41-year old placed third in the IHRA World Championship National Event Tour.
"Grand Bend is like being at home, we are really looking forward to the race at the Motorplex," said Spiering, who hails from Jordan Station, Ontario. "The new car performed well at its first race in Rockingham and we are looking for big performance out of the new Camaro."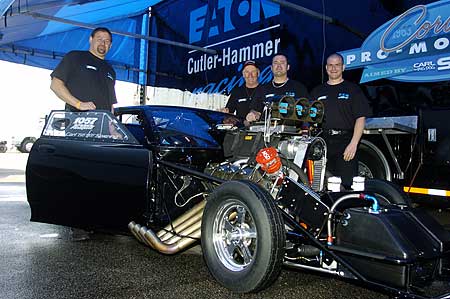 Spiering crashed the Carl Spiering Motorsports Eaton Electrical Pro Modified Chevrolet Corvette at the first race of the year in the quarterfinals at the Texas Nationals at San Antonio Raceway March 26 in Texas. Spiering was taken to hospital after the incident and released the same night with broken ribs, bumps, and bruises. The Camaro replaced the Corvette.
"We are excited once again to have the opportunity to represent Eaton's electrical business for another year," Spiering noted. "Eaton Electrical has given us the necessary backing to do this right and we thank them for it. We also thank all our other associate sponsors who have all contributed to our success in the past and continue to support us, giving us the tools to create a great team."
With a serious passion for fast machines in any type of competition, Carl Spiering and his Carl Spiering Motorsports Eaton Electrical 1967 Chevrolet Camaro Supercharged Pro Modified is quickly becoming one of the hottest Pro Modified racers on the drag race circuit.
The Mopar Canadian Nationals will begin Friday, June 2, at the Grand Bend Motorplex and will conclude with championship eliminations Sunday, June 4. For more information about the Grand Bend Motorplex, call 519.238.7223 or visit www.grandbendmotorplex.com
Carl Spiering Motorsports, www.CarlSpiering.com, thanks all of its sponsors and supporters including Eaton Electrical, Aluminum Trailer Co., Competition Tire Canada - Goodyear Racing Tires, ERD (Engine Research and Development), Excel Tool & Die, G-Force Race Cars Inc., NGK Spark Plugs, RBS Superchargers, Red Line Synthetic Oil Corporation, SSI Superchargers, (ATC), Bicknell Racing Products (BRP), The Trailer Shop, and VP Racing Fuels.
For more information, please contact Bruce F. Mehlenbacher at bruce@jajentertainment.com