Carl Spiering Motorsports debuts new
Eaton Electrical Camaro at Rockingham
"A 200 mph trip into the wall is not my idea of how to begin the season!"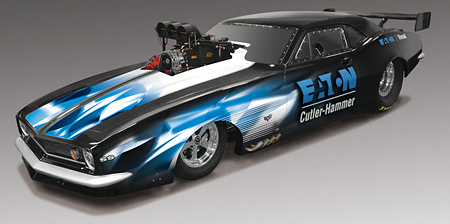 It's earlier than planned, but Carl Spiering will debut the new Eaton Electrical Supercharged 1967 Chevrolet Camaro Pro Modified entry at the upcoming Nicko's NY Style Pizza 36th Annual Spring Nationals. This event, is the second in the 2006 IHRA eMax Drag Racing Series, and presented by Advance Auto Parts, will be held in Rockingham, North Carolina, April 21-23 at Rockingham Dragway.
The 41-year-old Spiering crashed the Carl Spiering Motorsports Eaton Electrical Pro Modified Chevrolet Corvette in the quarterfinals at the Amalie Oil Texas Nationals at San Antonio Raceway March 26 in Texas. The Camaro will be replacing the Corvette.
"A 200 mph trip into the wall is not my idea of how to begin the season," said Spiering, who hails from Jordan Station, ON. "We had some terrible luck and got beat up pretty bad in San Antonio. I will be fine and the Eaton Electrical team will rebound stronger than ever."
Spiering was taken to hospital after the incident and released the same night with broken ribs, bumps, and bruises. Carl Spiering Motorsport would like to thank the IHRA's safety and track rescue team of emergency medical technicians, paramedics and fire fighters, the on-site physician, and the Brooks Army Medical Center for their help and support.
"We had big corporate plans for the introduction of the new Camaro with Eaton," Spiering added. "The situation at Texas changed all of those plans and we immediately started to get the new Eaton Road Warrior ready for the next race."
Spiering leads the points chase for the Torco Race Fuels Pro Modified Shootout and had a strong season in 2005. Winning the IHRA Torco Race Fuels Pro Modified Shootout and the IHRA ACDelco Nationals. The Eaton Electrical Pro Modified placed third in the IHRA World Championship National Event Tour.
With a serious passion for fast machines in any type of competition, Carl Spiering is quickly becoming one of the hottest Pro Modified racers on the drag race circuit.
The Nicko's NY Style Pizza Spring Nationals presented by Advance Auto Parts will begin Friday, April 21, at Rockingham Dragway and will conclude with championship eliminations Sunday, April 23. For information about Rockingham Dragway 910.582.3400 or visit www.rockinghamdragway.com
Carl Spiering Motorsports, www.CarlSpiering.com, thanks all of its sponsors and supporters including Eaton Electrical, Aluminum Trailer Co., Competition Tire Canada - Goodyear Racing Tires, ERD (Engine Research and Development), Excel Tool & Die, NGK Spark Plugs, RBS Superchargers, Red Line Synthetic Oil Corp., SSI Superchargers, (ATC), Bicknell Racing Products (BRP), The Trailer Shop, and VP Racing Fuels.
For more information, please contact Bruce F. Mehlenbacher at bruce@jajentertainment.com