Carl Spiering's day ends with crash
at IHRA Texas event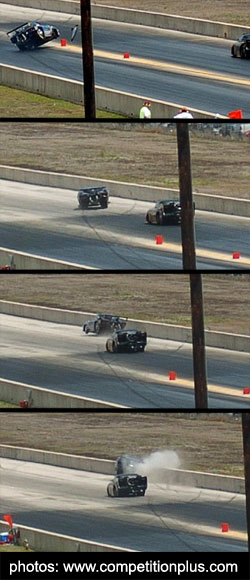 MARION, TX (March 26, 2006) – Carl Spiering's day ended abruptly Sunday when he crashed the Carl Spiering Motorsports Eaton Electrical Supercharged Pro Modified Chevrolet Corvette in the quarter finals at the Amalie Oil Texas Nationals in the International Hot Rod (IHRA) eMax Drag Racing Series at San Antonio Raceway San Antonio, Texas.
In the second round of Torco Race Fuels Pro Modified eliminations, Spiering 41, of Jordan Station, ON took on number six qualifier Kenny Lang from Grande Pointe, MB with a 1953 Chevrolet Corvette. Lang had the quicker light and was out in front at the 660-foot marker.
But after that, Spiering pulled ahead and was out in front when they passed the 1,000-foot marker. Spiering's car drifted left out of the groove and came close to hitting the outside wall of the left lane. As he tried to get back into the groove, Spiering crossed over the center line after the finish line, running over to the other side of the track and hit the wall on the outside of the right lane. The cars did not hit but Lang waited to deploy his parachutes, making sure he got by Spiering's car, and by not getting the chutes open early enough, he coasted into the sand at the end of the track.
Spiering ran a 6.299-second, 207.98 mph pass for the win. With his car crossing the center line after the finish line, he was declared winner of the round. Spiering was unable to make the call for the semi final round, which gave the win into the finals to the 1963 Corvette of Tommy D'Aprile's from Port Charlotte FL.
Spiering defeated Jason Hamstra from Demotte, IN in the first round of eliminations with a 6.179-second, 231.64 mph run. Hamstra was in the field as an alternate for number two qualifier Scott Cannon Jr from Lyman, SC who Spiering was scheduled to run before Cannon crashed in the final qualifying session Saturday night.
Glen Kerunsky from Priddis, AB won the Torco Race Fuels Pro Modified Championship at the Amalie Oil Texas Nationals over Tommy D'Aprile from Port Charlotte, FL.
The next International Hot Rod (IHRA) eMax Drag Racing Series event of the season the 36th Annual Spring National presented by Advance Auto Parts will take place April 21-23 at Rockingham Dragway in Rockingham, North Carolina. For information, call 910.582.3400 or visit www.rockinghamdragway.com