Carl Spiering pilots Eaton Road Warrior to tenth spot in final Texas IHRA qualifying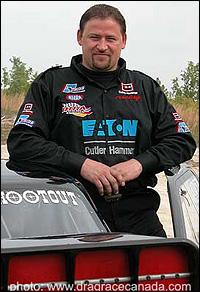 MARION, TX (March 25, 2006) - The Eaton Electrical Supercharged Pro Modified Chevrolet Corvette piloted by Carl Spiering secured tenth position during the final qualifying sessions at San Antonio Raceway's International Hot Rod (IHRA) eMax Drag Racing Series Amalie Oil Texas Nationals in San Antonio, Texas on Saturday.
In the fourth and final round of qualifying for the Torco Race Fuels Pro Modified field Spiering hugged the center line but never lifted on his way to his second-quickest run of the weekend a 6.155 seconds elapsed time at 232.35 miles per hour. Spiering did not get his car stopped in time and went into the emergency sand trap.
"We have some work to do tonight before for the finals on Sunday, but we can get it done," explained an excitable Carl Spiering. "That's why we have that big Aluminum Trailer transporter. We have everything imaginable in there. I've got to go the Eaton Road Warrior needs me."
The Carl Spiering Motorsports, www.carlspiering.com, entry will face Scott Cannon Jr in the first round of the final eliminations at the IHRA Amalie Oil Texas Nationals on Sunday starting at 11:00 a.m. CST.
The Carl Spiering Motorsports Eaton Electrical Supercharged Pro Modified Tim McAmis Race Cars Chevrolet Corvette is powered by a 526-cubic inch Brad Anderson Hemi power plant with Alan Johnson cylinder heads, a SSI Supercharger, and a Carl Spiering ERD (Engine Research and Development) fuel system, all united to a Lenco three-speed transmission with an Applied Friction Technologies (AFT) clutch.
San Antonio Raceway is located off Interstate 10 (Exit 597), west of Seguin, TX, 15 minutes from the I-410 beltway. For information, call 210.698.2310 or visit www.SanAntonioRaceway.com