Dragster feels the need for speed Autosports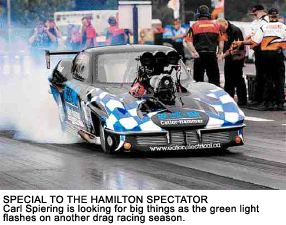 By Tim Miller
The Hamilton Spectator
(Mar 9, 2006)
He's raced snowmobiles and off-shore boats. But for Carl Spiering, drag racing is his passion, and this year the 41-year old will be trying to keep the momentum he established last season as one of Canada's top Pro Modified drivers.
With the right equipment, right combination, and solid financial support from Eaton Cutler-Hammer, Spiering and his team placed third in the IHRA (International Hot Rod Association) Pro Modified division, his best showing to date.
And the Jordan Station racer didn't run the entire series.
"Placing third is a great accomplishment, especially when you consider we only ran nine of the 12 national events during the 2005 season," explained Spiering. "Our new engine program with the Brad Anderson Hemi power and a great car from Tim McAmis helped us run our best time ever with a 6.07-second time at 233 miles per hour."
The car Spiering drives is a full-bodied race car weighing about 2,700 pounds and powered by a supercharged
526-cubic inch engine, producing about 2800 horsepower. The class is an extension of the Top Sportsman cars, and has become very popular with fans. The car bodies range from 1933 Willys coupes through late 1940s Mercurys to modern Corvettes and just about anything in between. The IHRA embraced the class a few years ago, a class that is known as "the world's fastest doorslammers," because the cars must have workable doors on their bodies.
There are quite a few Canadians running a Pro Mod team, but only a couple have achieved the status of Spiering, who owns and operates a utility and recreational trailer facility. Spiering worked up through the ranks of quarter-mile competition, staring with a big-block Chevy powered 1964 Chevy II. About 10 years ago he was running a Top Sportsman car along with crewing with Barry Paton of Paris, who was campaigning a Funny Car at the time.
In 1999 Spiering teamed with the Persico Brothers running a nitrous-powered Camaro. The next year he ordered his own car, a 1957 Chevy-bodied Pro Mod from Kitchener's Lowdown Hotrods.
He won his first IHRA national race with this car in Maryland. Always a contender but with little success, Spiering purchased his present Corvette-bodied car in 2003, and after some teething, got the bugs sorted out and started winning. He won the 2005 AC Delco Nationals at what he considers his home track, Toronto Motorsports Park.
"That win was unbelievable, Spiering said. "It was what every racer dreams of doing. To do it in front of my hometown fans and all the Eaton Cutler-Hammer (his primary sponsor) workers and executives was awe-inspiring. It's just great to get a win in general, but that was awesome."
So Spiering is hoping to keep the momentum going. He's off to Texas in a couple of weeks for the opening round of IHRA competition at San Antonio.
"The team has been working hard over the winter to keep up with the pack," he noted. "We finished off last season on a high note and fully intend to keep the momentum and run strong in Texas."
Article originally published in the Hamilton Spectator www.thespec.com