Spiering Looking to "Rock" at the Rock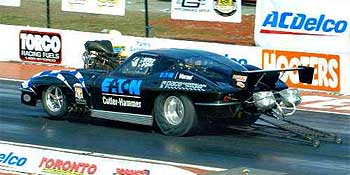 Cayuga, Ontario, Canada - Carl "Big Dog" Spiering and his Eaton Cutler-Hammer 63 Corvette Pro Mod are looking forward to IHRA World Finals presented by Bethesda Softworks in Rockingham, North Carolina. Spiering, who has had a career season, loves racing at Rockingham and wants to end his season on a high note. He states, "The conditions at "The Rock" are usually awesome and the performances are great as well. Last year we ran a 6.12 sec-run and hopefully we can improve on that. I know we have the team to contend for the World Record, but those words are more easily said than done. It will be a great event regardless. The Eaton Cutler-Hammer team just needs to focus on one run at a time. If we do that we will have a successful weekend".
Spiering heads into Rockingham 4th in National Points standings. Less than one round of competition separates him from 3rd place Jim Halsey. One has to wonder where the team would be if they had not skipped the first three races of the season. Crew Chief Terry Vince comments by stating, "Everything happens for a reason. Our decision to stay home in the beginning of the year was one made at the end of last year. We wanted to get our racing operation to be able to compete on the level we have. Obviously we accomplished what we set out to do, so we as a team cannot dwell on that fact. This team has had a great season and we look forward to Rockingham and improving our program over the off-season".
After an uncharacteristic outing at Budds Creek, the team is looking to have another performance like earlier in the year at Toronto or Martin. Stay tuned to see if the "Big Dog" barks at the World Finals.
Carl Spiering Motorsports thanks all of its sponsors and supporters including- Eaton Cutler-Hammer, The Trailer Shop, E.R.D Engine Research and Development, Competition Speed, NGK Spark Plugs, Pennzoil Canada, VP Racing Fuels, Pace American Trailers, ATC The Aluminum Trailer Company, BRP Bicknell Racing Products, D.M.P.E Darren Mayer Performance Engineering Inc., BRP Hoosier Tire Canada, G-Force Race Cars Inc, Excel Motorsports, and Vici Promotions.