Spiering Has Uncharacteristic Weekend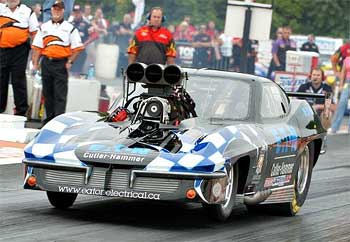 Budds Creek, Maryland. - Carl "Big Dog" Spiering and his Eaton Cutler-Hammer 63 Corvette Pro Mod had an uncharacteristic weekend at the IHRA Torco Race Fuels Presidents Cup Nations in Budds Creek, Maryland.
Spiering, who has most definitely been having the most successful year of his career, struggled at the Budds Creek race. He stated, "We were fighting gremlins in the clutch can. The car was just really unhappy. I drove it to the edge and just could not get it to go any better until we figured out the problem after Saturday's night session. I left the same set up in it for first round on Sunday and I thought it would hold on, but it was just too aggressive. Like they say in racing, everything changes in around six seconds". We'll get it straightened out for Rockingham and be back on our game".
Spiering will head to Rockingham for the IHRA World Finals presented by Bethesda Softworks 4th place in National Points, less than one round out of 3rd place driver Jim Halsey. Crew Chief Terry Vince states, "We love to race at Rockingham. We did very well there last year and hopefully can do the same again this year. Rockingham is always fast and we will all be shooting at a New World Record, so it will be very exciting. If the weather is right, it will go even lower. You can bet on that".
The action gets underway on Friday, October 7 and continues through until Sunday, October 9. Stay tuned to see if the records are smashed once again.
Carl Spiering Motorsports thanks all of its sponsors and supporters including- Eaton Cutler-Hammer, The Trailer Shop, E.R.D Engine Research and Development, Competition Speed, NGK Spark Plugs, Pennzoil Canada, VP Racing Fuels, Pace American Trailers, ATC The Aluminum Trailer Company, BRP Bicknell Racing Products, D.M.P.E Darren Mayer Performance Engineering Inc., BRP Hoosier Tire Canada, G-Force Race Cars Inc, Excel Motorsports, and Vici Promotions.