Spiering Going for "IT"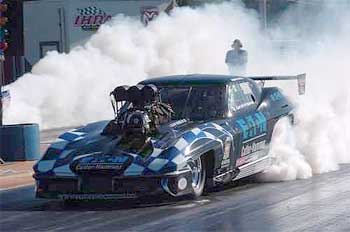 Jordan Station, Ontario - Carl "Big Dog" Spiering and his Eaton Cutler-Hammer 63 Corvette Pro Mod head back to the track where he obtained his first career "Iron Man". Budds Creek, Maryland will host the IHRA Torco President's Cup this coming weekend September 23-25. Spiering, who has been either winning or setting performance records at all recent national event races, is looking to do the same at Maryland International Raceway. Carl stated, "I love this place. It's just one of those racetracks that feels good to go to. I have always done well here and got my first national event win here in 2003. I'm really looking forward to running in the awesome conditions that this racetrack brings. At Epping we were just starting to figure out what the Eaton Cutler-Hammer hot rod really likes in "Good Air". I will have more for them this weekend. I really want to get the national ET record".
Spiering is hot off of a 6.107 sec run at Epping two weeks ago. That run was just .005 from equaling the present World Record of 6.102 set by Al Billes at Rockingham in Oct of 2004. A win and an ET record would put Spiering in contention for a World Championship bid when all teams pull into the World Finals at Rockingham in October. Crew Chief Terry Vince states, "We are just taking things one day at a time right now. I personally do not want to get caught up in thinking about anything but the next task at hand. If it gets to that point, we will think about it as a team at that point. We have had a great year anyway you look at it and I'm proud of that". Team Eaton Cutler-Hammer will be poised and ready for an assault on the record book until the last pass of the year. The action gets underway on Friday September 23, 2005 at Maryland International Raceway. Stay tuned to carlspieringmotorsports.com and ihra.com for all the results.
Carl Spiering Motorsports thanks all of its sponsors and supporters including- Eaton Cutler-Hammer, The Trailer Shop, E.R.D Engine Research and Development, Competition Speed, NGK Spark Plugs, Pennzoil Canada, VP Racing Fuels, Pace American Trailers, ATC The Aluminum Trailer Company, BRP Bicknell Racing Products, D.M.P.E Darren Mayer Performance Engineering Inc., BRP Hoosier Tire Canada, G-Force Race Cars Inc, Excel Motorsports, and Vici Promotions.